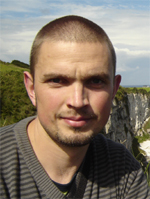 Recently I got interviewed by two English teachers for their websites – Ben who lives in Spain and Nate who's settled down in Japan.
These are my first interviews I've ever done, and as you can imagine, I had to use some of my own English fluency management strategies to keep a cool head, gather my thoughts and speak fluently because stress levels were high – especially in the beginning of those interviews! 😀
And here you can watch 2 YouTube videos containing fragments from my interview with Ben:
What you can expect to hear in those interviews is pretty much everything about my background as a foreign English speaker – starting from my years long struggling to speak English fluently and ending with useful tips for my fellow foreigners on how to maintain fluent English speech.
You'll also find out in those interviews:
what is a "writing mode" of your mind and why it prevents you from speaking English fluently (interview with Ben)
why speaking with yourself is the best way to improve your English when there's no-one to talk to (interview with Nate)
and a whole lot more!
So if you've got nothing to do on this Friday night (or any other day of the week), sit down at your laptop or PC and listen to me spilling the beans about what real English fluency is all about:
Let me know what you think in the comments below! 😉