If you are new here please read this first.
Learning a language that people are very fluent in can at times be intimidating. However, you can make it and one day become as fluent as them. Many people have succeeded in becoming very fluent in a language they did not know initially. Well, there are quite a number of ways to learn English. Watching and listening to conversations in movies is one of these great ways. Movies produced in English are a great resource if you want to improve your vocabulary. They have been a suitable option for many. If you love movies, you can use them to learn English today. Watching movies done in English is a perfect way to enhance your English particularly in your listening and speaking skills. If books are tiring for now, sit back and use the following 12 tricks to learn English from movies.
Use Movies You Know. If you are just getting started, a movie you have used before will be important. The reason for this is because you are conversant with the plot. This time, you can now focus on the English rather than the plot.
Use Subtitles. The ability to listen and read the subtitles is a great way of helping you master everything perfectly. This is especially if you are a beginner. You can leave out the subtitles as you advance.
Begin Small. Choose a movie that will not engage your thoughts deeply. Watching an epic can be a lot demanding. Instead, work with a short movie that does not require a deeper understanding of culture and history in order to stay focussed mainly on the language. 
Watch the Movie in Bits. If you find watching the entire film tiring, you can choose to watch it bit by bit. Take a break in between to digest what you have learnt so far. In between the breaks, maintain the focus.
Listen and Go Back. With a movie, you have an option of rewinding it. Repeat sections that you feel you need to understand more. Don't rush over the movie. The most important thing is to get what has been said perfectly. 
Choose Movies You Like. If you are not a fan of drama, keep off such films. If you like action films, then go for them. The best way to learn English from movies is to choose those movies you enjoy watching.
Use Movies with Same Country Origin. English is somewhat diverse and to be honest with you, trying to learn it from movies with different country origins will mess you up. Different accents may interfere with your ability to learn consistently.
Focus on Words and the Context. Get the words used in the film and the context in which they are used. This will help you a lot in getting a wider understanding of the English word.
Watch Movies in the Company of Friends. Should you find like-minded friends who want to learn English too, join them. You will be in a position to get deeper insight from one another on different parts of the film that seem difficult for you to understand.
Keep a Journal of the Movies. Every time you get to hear some interesting statement in the movies, jot it down. Keeping a film journal will help you to make reference in the future and use the words to your advantage.
Use FluentU. This is an easy and effective way of learning English from films. It usually has a collection of the best videos for learning English. Through FluentU, you will get trailers, TV shows and many other videos that come with example sentences, definitions, and subtitles.
Practice the Words in Conversations. If you keep practicing what you learnt from the movies, they will most likely stick on your mind. Do this as you watch the videos with friends to get the meaning stuck perfectly.
There you have it! A perfect way of learning English, not only on how to write it but also on how to speak. Follow through to get the correct pronunciation and the context in which to use the words learnt. Get started with movies such as 500 Days of Summer (2009), The Prison Break Series, Twilight (2008) and many more of that kind.
About the Author
William Melton is a writer and researcher on educational and tech topics. Also, he works as a part-time editor at Thesisrush.com creating many amazing posts regarding helpful techniques & strategies for students. He goes mad of reading British modern literature.
P.S. Are you serious about your spoken English improvement? Check out the English Harmony System HERE!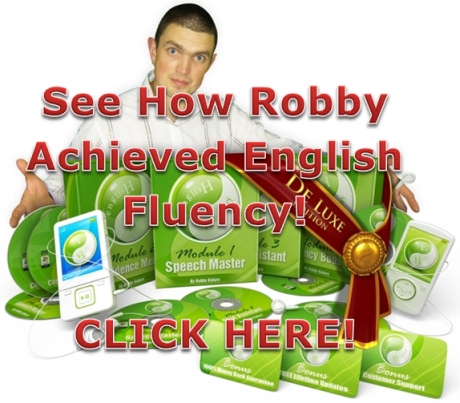 P.S. Are you serious about your spoken English improvement? Check out the English Harmony System HERE!