If you are new here please read this first.
For an international job seeker who is wondering how to ace a job interview easily, a limited grasp of the English language can be an additional source of concern. Over the recent past, globalization has seen an increase in the competition for scarce employment opportunities, requiring job seekers to update not only their work skills and abilities but also their job search skills. The dynamics of the labor force are changing, with Forbes reporting that immigrants account for about 17.1 percent of the entire United States' labor force. In this article, you'll find tips and ways to ace an interview for non-native interviewees.
Practice and preparation are critical
Although preparation is a demand for all successful interviews, non-native speakers need to practice even more to improve their command of the English language. Try to practice with speakers of the host native language.
You also need to prepare for and rehearse responses to the most common interview questions. For instance, you should practice answering the questions about yourself. If you have prepared your responses adequately, you will feel more natural in your response. In fact, "50% of interviewees fail to land the position due to lack of sufficient preparation, while the remaining percentage fail in communication, both verbal and nonverbal"- argues Andrew Seaman, a career advisor at Skillroads.
As you prepare for the very first job interview, carefully read the job description, and consider how your past experience and education meet the responsibilities outlined. Identify your best selling points as you prepare to face the interviewers.
As part of your preparation to ace a job interview, you must become acquainted with the industry terminology. Read journals, books, and websites to be sure you gain familiarity with the expressions used in that field. In addition, practice word pronunciation and enhance your terminology vocabulary.
Expect questions relating to your education  
As indicated by Prospects, for international job seekers, in particular, you should not assume that the interviewing panel knows about the education system in your country or something about the university you attended. If you attended a top university in your country, say it. Please note that, while providing too little information to the recruiter might be confusing, too much information can be boring. Strike a balance, and read the tone and body language of the interviewer.
Conduct your own background research on the company
Well, this applies to all job seekers, whether you are a native or non-native speaker. It helps if you have some understanding of the company and the position you are applying. Have a grasp of the company philosophy as well as the main products, services, and strategy.
Be succinct and direct during the interview
Part of your preparation should consider how to talk in interview in English. It is likely that the interview time is limited, meaning that your interviewers will and you to be direct and to the point. Some international non-native English speakers have been accused of being too long-winded in the way they respond to interview questions. We recommend young job speakers to avoid placing their responses to the questions at the back of their explanation. Start with the answer and offer explanations after. Secondly, try not to offer prolonged responses to each question. Instead, be focused on your answers, and use facts and details.
Talk positively and sound natural in your responses
Try to stay as positive as possible. While some cultures condone employees who complain about their previous jobs, most do not. Stay positive in your job interview speech, as negative responses may give the wrong impression of your character.
Seek clarification for anything you do not understand. This is better than giving a response that does not match the questions asked. In addition, you should not feel the need to apologize for your accent. If the interviewer fails to understand your response due to your accent, just repeat the response.
In regards to your delivery when preparing for an anticipated cross-cultural interviewing, don't try to merely memorize responses, better make a list of popular interview questions and practice your possible response. Try not to sound like you had memorized the answers beforehand. If you work on remembering the content, then you'll sound more natural.
Use your international status as a selling point
Companies increasingly recognize the significance of cultural diversity in the workplace, especially in relation to the thought, skills, and experience it brings. In other words, most cultural differences are actually a bonus when it comes to job search. Tell the interviewer about your unique international experience and how it'll benefit the organization.
Your nonverbal communication is as important as verbal one
At the scene of the interview, some applicants assume that providing the best responses to the questions is all you need to land the job. Well, this is not always true. Even if your language skills are impeccable, a large chunk of your job prospects will depend on how you communicate without even saying a word. Nonverbal communication includes your body language and everything referred to the paralanguage:
Facial expressions

Speech speed

Sighs and pauses and intonation  

Maintaining eye contact

A firm handshake
If you are wondering how nonverbal aspects relate to how to prepare for interview in English, non-verbal communication also includes your grooming and dressing and will be observed keenly by the interviewers. Using too much perfume or dress inappropriately will not help your job prospects. As such, before leaving for the interview, make sure that you are well groomed, and that your shoes are polished.
Arrive early for the interview. Showing up for the interview 10-15 minutes before schedule shows the interviewers that you take their time seriously. Call for directions or search online to eliminate any unexpected delays. Always keep time.
Lastly, follow up on the interview. After the completion of the interview session, ask whether you can contact the interviewer and take the contacts or business cards. Don't forget to grill about the next stage of the interview process. It would be polite on your part to send a thank you note to the interviewer via email, be attentive and use the proper name and title as provided on the business card.
As long as you follow these tips, you have good chances of acing that interview and landing the demanded position. Create a comprehensive job interview checklist to remember what to prepare and to what to leave out. Most importantly, be patient and keep trying, as there is nothing impossible even in the competitive job market.
About the Author
Alice Berg is a blogger and a career advisor, who received a degree in Social Work and Applied Social Studies. Now she helps people to find their own way in life, gives career advice and guidance, helps young people to prepare for their careers. You can find Alice on Twitter.
P.S. Are you serious about your spoken English improvement? Check out my English Harmony System HERE!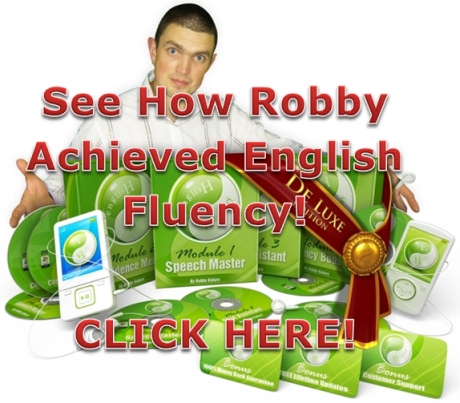 P.S. Are you serious about your spoken English improvement? Check out the English Harmony System HERE!