Just to make sure that you submitted your e-mail address and no-one is ill-using it I sent a confirmation e-mail to your inbox (if you don't see the e-mail there, check the spam folder and whitelist my e-mail address).
You can see BELOW what the actual e-mail looks like in your inbox so that you don't miss it!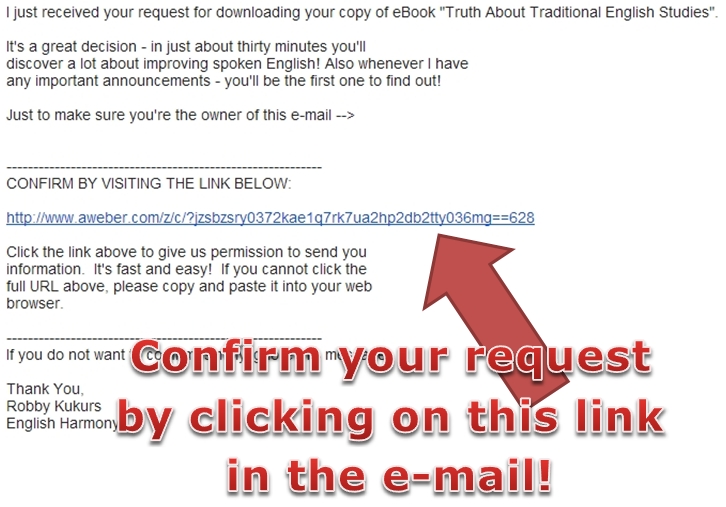 When you confirm the subscription from the e-mail, you will receive the download link to the free eBook!
And – of course – if you decide at any point that you don't want to receive any messages from me anymore – there's an unsubscribe link in every e-mail.
IMPORTANT!
By confirming your e-mail you will be subscribed to my mailing list. You'll be receiving informative videos, valuable English improving info and other cool stuff from me in the future. I'll be discussing various aspects of English fluency and I really hope you'll enjoy reading my e-mails!
Also, if I have any important updates or announcements – you'll be the first one to get an e-mail from me.
HOWEVER, if you choose NOT to receive any future e-mails from me – there's an unsubscribe link at the bottom of each and every e-mail I'll send you. It's easy-peasy – just click on that link and you won't receive any future e-mails from me.
Please DON'T use the SPAM button in your e-mail client to spam my e-mails – there's no need to do it as I'm not a spammer! I hate anyone who sends unwanted e-mails with advertisements and irrelevant information just as much as you do!
What you'll be getting from me is – ONLY English fluency related videos, news articles, and my website's updates!
So please confirm the e-mail I just sent you and you'll be taken to a download page where you'll get the FREE eBook.
Talk to you soon,
Robby Kukurs