If you are new here please read this first.

Here's another broadcast from my car, and this time I'm driving to the local Post Office to deliver a DVD set of my English improving software – English Harmony System 2.0!
I'm planning to discontinue the DVD sets at some stage in the near future anyway, so this is the last drive of this kind. You see – at the moment I'm working on the System's update, and with a lot of new lessons added onto the software the DVD version becomes rather too expensive to manufacture and deliver.
Also, considering we're living in a digital era, it would make an awful lot of sense indeed to encourage my potential customers to contribute to the environment and go for a digital product instead.
As we all know, all physical goods have a related carbon footprint, so the less goods we buy and get delivered, the less damage we do to our planet! Of course, I'm not going to turn the whole world's environmental problems on their head, but then again – every little counts!
So basically when all my remaining DVD stock is sold out, I'll keep selling only the download version of the System which is actually the exact same product. No-one needs to worry they'll get anything less if not getting a DVD set!
Also, I'm rambling about my job in the video above, so if you're interested to find out specifics of Robby's 9 – 5 job – spend the next five minutes watching the video and you'll found out for yourself what it is that I do on a daily basis to put food on the table!
Robby
P.S. Would you like to find out why I'm highlighting some of the text in red? Read this article and you'll learn why it's so important to learn idiomatic expressions and how it will help you to improve your spoken English!
P.S.S. Are you serious about your spoken English improvement? Check out my English Harmony System HERE!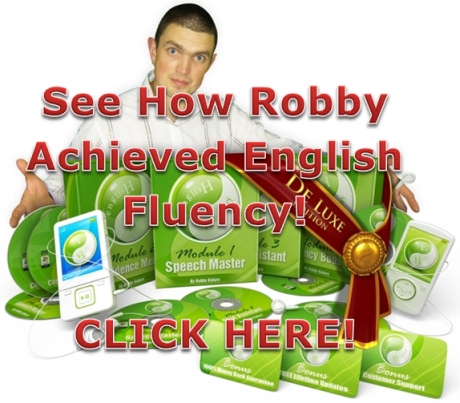 P.S. Are you serious about your spoken English improvement? Check out the English Harmony System HERE!