If you are new here please read this first.

Hello guys! 😀
As you may have heard, I recently launched a brand new English fluency coaching product called Fluency Gym Coach Program (FGC Program) , and it's mostly centered around confidence building and creating an English fluency improving routine (as opposed to purely technical speech pattern building which is the scope of the English Harmony System).
The Action Plan – a file outlining the goal setting and execution – is an integral part of the FGC Program, so I decided to showcase it by setting a goal for MYSELF.
And, as you can guess by the headline of this blog post, my goal is to acquire 50 new American English phrases within the next 25 days!
How I'm Going to Learn 50 American Phrases
I own a number of blogs, and one of my latest additions to the English Harmony network of websites is BestEnglishFiction.com – a blog for those foreign English speakers who aspire to achieve fluent English reading and also for those who already enjoy good English fiction and are looking for more English books to read.
Now, you may think:
Robby, aren't you always emphasizing the importance of speaking as opposed to reading?!
Sure enough, in order speak fluently you have to speak, there aren't any shortcuts.
Just the fact that I enjoy reading English fiction, however, doesn't contradict my dedication to regular spoken English practice. I actually COMBINE the two – I read and then I discuss the contents of the book in question with myself!
And that's exactly how I'm going to go about learning these 50 American English phrases:
I'm going to write down new phrases from the books I currently read, namely – GONE series;
I'm going to engage in self-practice sessions on a daily basis in order to add those phrases onto my ACTIVE vocab (as opposed to passive vocab which enables you to understand new words but not necessarily USE them in live speech);
I'm going to shoot for 2 videos daily within the next 25 days thus accomplishing the goal within the target time;
Morning video is going to go on my EasyIdioms.com website which is dedicated to English Idiomatic Expressions;
Evening video is going to go on my AccentAdventure.com website where I'm blogging about English accent and pronunciation related issues. Basically I'm going to keep developing my American pronunciation during my first FGC goal as well as widening my active English vocabulary!
Are you interested in learning some American phrases and slang with me?
Then make sure to bookmark my blogs and check them on a daily basis!!!
Chat soon,
Robby 😉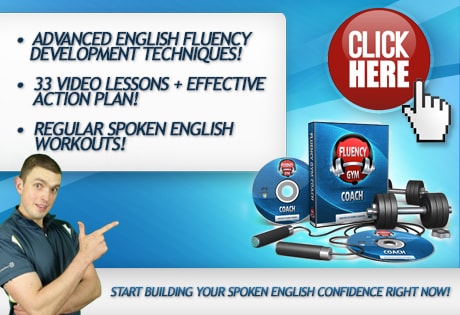 P.S. Are you serious about your spoken English improvement? Check out the English Harmony System HERE!