If you are new here please read this first.
Podcast: Play in new window | Download

In this English Harmony video I'm going to respond to Meenu's comment in which she explains her problem in relation to learning new English vocabulary words.
You can see the full exchange below: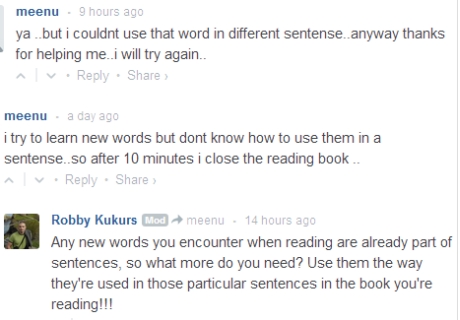 I'm taking the liberty to elaborate on the whole issue in the video above, and I hope you'll find it helpful, Meenu! 😉
So, if you're having similar issues with learning new English vocabulary:
You find it hard to grasp multiple meanings of the same English word;
You can't know how to use a new English word in a lot of different situations;
The whole vocab building thing seems to be too overwhelming…
…then simply watch the video above and you'll be in a nice surprise to find out that contrary to your beliefs you don't even have to learn how to use a new English word in a lot of different life situations.
You just have to learn how to use that new English word in ONE sentence – the way it's written in a book, for example – and that's pretty much all you need in order to develop your English fluency to a high standard ❗
Cheers,
Robby
P.S. Are you serious about your spoken English improvement? Check out the English Harmony System HERE!