If you are new here please read this first.

Hello YearOfEnglish.com subscribers!
Have you got an important event coming up any time soon such as:
Job interview
College presentation
Meeting at work…
… and you're stressing out over your ability to deliver during that event in terms of your spoken English?
Well, my years long experience dealing with various English fluency related matters tells me that by far the most effective way to prepare for such and similar events is by doing some spoken English practice with yourself!
The plan is quite simple (the more complicated you make it to be, the smaller the chance you'll take the action, so keep things simple to make sure you don't get too overwhelmed!):
Make a simple list of things to be discussed during the conversation;
Plan your answers by writing them down on a piece of paper;
HIGHLIGHT the key phrases and words;
Learn those key phrases off by heart so that you can deliver them AUTOMATICALLY throughout the interview, presentation or a meeting!
Here's an example of a typical work-related meeting:
MAIN POINTS
Team performance throughout the month of November;
Absenteeism;
Pay-freeze due to the current economic climate.
LIST OF YOUR RESPONSES AND QUESTIONS
This month was the first one when more than 90% of calls were dealt with below the 2 minute target.
Some team members were reported absent due to the fault of the clock-in machine.
Is the pay rise for employees with more than 5 year service going to be cancelled as well?
KEY PHRASES YOU HAVE TO MEMORIZE
How you decide which bits are the key phrases?
Simple enough – those are the bits you'd find the hardest to say out loud spontaneously!
So, considering the stress levels involved during the real conversation, you may want to make sure that you can say those things you have the greatest chance to mess up!
Here's the list of phrases:
Calls were dealt with
Team members were reported absent
Due to the fault
Pay rise for employees
5 year service
Now, you have to do the utmost to memorize these key phrases because they'll allow you to make your point even if you:
Make a small mistake here and there;
Hesitate a bit;
Forget some other English word;
Get tongue tied during the conversation.
Those key phrases are the foundation that your questions and answers are going to be built upon, so it's really, really important to memorize them and also repeat the sentences so that you can say them out loud without much thinking.
And here's the thing – when you do this spoken self-practice from the comfort of your own home, the stress factor is totally removed and you can experience the conversation almost as it would happen in real life.
You can pose as the interviewer (if it's a job interview) or your boss (in the case of a work meeting), ask the question, and then answer it thus imprinting the answer in your brain.
When the real event comes up, there's a chance you might forget the entire longer sentence, and you may say something not the way you wanted, but for as long as you have the key phrases memorized, nothing can go totally wrong!
So, embrace this concept of doing some spoken English self-practice when expecting some really important events coming up, and your chances of success will definitely increase!
Thanks for tuning in,
Robby
P.S. Are you serious about your spoken English improvement? Check out my English Harmony System HERE!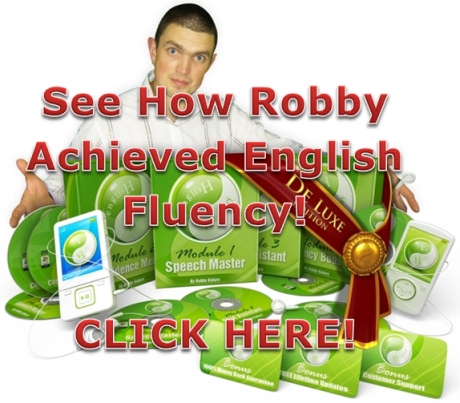 P.S. Are you serious about your spoken English improvement? Check out the English Harmony System HERE!