If you are new here please read this first.
These things I warmly wish to you – someone to love, some work to do, a bit o' sun, a bit o' cheer, and a guardian angel always near!
Happy Paddy's day everyone! This is Robby from Ireland and today I'm joining hundreds of thousands of other revelers all over the world celebrating St. Patrick's Day!
If you don't know what Paddy's Day is all about – here's a brief intro for dummies. So, the 17th March is the anniversary of passing of St. Patrick who is the most renown religious figure of all times in Ireland and even thought he might not be the one who introduced Christianity in Ireland fifteen hundred years ago, he still played a crucial role in the process.
And, if you didn't know, Irish people are quite religious folks so it's no surprise that over the centuries their patron saint St. Patrick became one of the main symbols normally associated with Ireland along with the leprechaun and shamrock leaf.
I'm not really sure how the festival traditions kept developing over the last fifteen hundred years, but I can tell you for sure how Paddy's day is celebrated here in Newbridge which is my hometown for the last 8 years.
So, basically it's all about the parade marching along the main street of the town. Shortly before midday people would be streaming from all over the place to the town centre to grab the best viewing spots on the Main street and a green shirt and a leprechaun hat is a must-have! You also have to carry a green-white-orange Irish flag and wave it over your head and cheer the parade participants!
And now about those taking part in the march. There's everyone represented – local schools, children's interest groups, boxing clubs and firemen, people from ethnic minorities and local businesses, in other words, the march really reveals a great deal about who lives, does business and maintains the community spirit around the town.
And then of course, comes the man St. Patrick himself brandishing a tall wooden staff followed by a crowd of different characters – starting from stiltwalkers and ending with Spiderman – no-one is left out, I can assure you of that!
You also have horse carriages and retro cars, and you have racing cars revving up and honking all the way through the parade, so I guess that paints the picture of Paddy's Day parade for you!
But when the parade is over, you can go to a pub and have a couple of pints of the black stuff to help you get into the festive mood and who knows – maybe you'll get a chance to get to know some locals and have a nice chat with them! 😉
Am I seeing some nervous smiles now? Are you not feeling comfortable with the idea of chatting with strangers because they'll think you're some weirdo trying to show off your English language skills?
Well, if that's the first thought that crossed your mind when I mentioned having a chat with local lads in a pub, then I want you to reconsider your approach towards interpersonal communication. You'll never achieve English fluency if you just sit quietly in a corner and don't talk to anyone. I'm not telling you have to start running around the place chatting up random strangers for no reason at all; it would look quite silly indeed.
But there's always a reason to pick up a conversation with someone sitting next to you in a pub, bar, or any other type of a public gathering or a party.
You see, people actually do expect being addressed by strangers all the time when they go out, and it's not like you're intruding their personal territory. Well, some folks do like to be left alone, but then you'd see it written on their face even before you attempt to start a conversation with them!
On the other hand, if a person has a friendly disposition, you'll just feel it without him or her saying anything. You can just use some excuse to start a conversation and see how he or she responds. And it's not just for lads chatting up girls or girls starting conversation with lads. Let's say, you're a man having gone out to a party where you're standing next to people you're not familiar with.
So what do you do if no-one talks to you first? Do you keep sitting quiet and waiting on others to address you? I'd say make the first step and don't be overly concerned that you'll make a fool out of yourself by asking a stupid question. Instead, use traditional chat-up lines that have been tested over and over to start a neutral conversation just for the sake of saying something; it's so-call small-talk. It is as I just said – talking about nothing really and people do it all the time!
Well, the most popular topic for a conversation starter is weather. I think I wouldn't be wrong in saying that wherever on the planet you come from; it's also one of the most popular small-talk topics in your country, isn't it? It's one of those things you can always talk about when there's nothing else to say, so why not use it as an excuse to practice your spoken English when you find yourself sitting next to someone for a while and you feel that the other person wouldn't mind being addressed?
So a typical question you'd ask someone would be: "The weather is miserable, isn't it?" Why? Because in Ireland it rains 365 days a year, and even if you didn't know what happens outside you couldn't go wrong with this one! 😀 Â All right, I'm just messing now, of course you do get nice weather in Ireland too, especially now with this global warming going on, so when there's not a single cloud in the sky you can say to that good looking girl sitting next to you at the bar: "It's a gorgeous day today, isn't it?" or "It's a beautiful day out there, isn't it?"
And you can be pretty sure that no-one will take these innocent chat-up lines as something strange – especially folks as friendly as Irish will definitely respond with something like: "Yeah, it's great out there today, so it is!" and then you can be pretty sure it will be followed by some sort of a counter question if that person is willing to keep talking to you – "Did you watch the parade today?" And that's definitely a good start for a few minutes long small talk during which you'll be most likely asked where you're from and what you do and all the usually stuff.
And the beautiful thing about it is that the more you get yourself into situations like this, the better your spoken English will get!
Robby
P.S. Do you want to be able to chat up English speakers on social occasions? Check out my English Harmony System HERE and you'll get there in no time!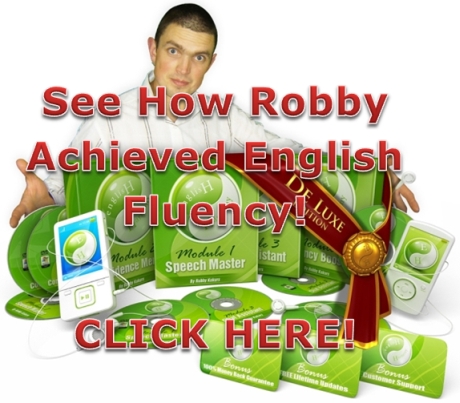 End