If you are new here please read this first.

If you want to speak in English without much thinking and planning your speech in your head before actually speaking out loud, you should definitely look into learning various idiomatic expressions.
I'm not saying that purposeful acquisition of these expressions is going to make ALL the difference between your ability to speak fluently and not being able to speak at all. Sure enough, you can speak the very same way I would have been speaking a few years ago:
by sticking individual words together;
thinking in my native language & translating in my mind;
constantly trying to think of the right words to say.
If you learn idiomatic expressions, on the other hand, your brain gets wired with naturally occurring speech patterns, and it enables you to speak without much thinking, it happens automatically and instinctively.
So, starting from today – if you haven't already been doing it – make sure to learn at least one or two idiomatic expressions a day, and you'll improve your spoken English much faster than you ever thought possible, there's no doubt about that!
Watch the video above where I'm providing examples on how to use today's phrase – there's no doubt about that – and you'll also find out other things aside from English learning and improvement related stuff – such as what I think about dangers of smoking, or what the world is coming to these days with the ever increasing violence and crime levels.
Thanks for dropping by my dear friend, and see you soon again!
Regards,
Robby 😉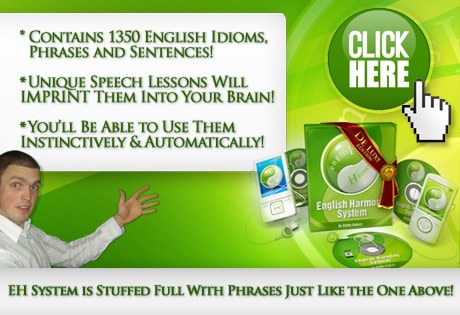 P.S. Are you serious about your spoken English improvement? Check out the English Harmony System HERE!