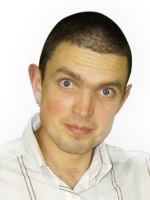 I'm Robby – your English Fluency Mentor and you're welcome to EnglishHarmony.com – one stop place for those struggling with English confidence and fluency ❗
English Harmony is for YOU, if you're quite a decent English speaker and you've no problems watching and understanding movies in English and you can read English magazines and newspapers, read stuff on the Web, and you're generally comfortable living in an English speaking environment, but you STILL have certain occasions when your mind starts racing and you get stuck in a middle of a conversation with someone and you just seemingly lose all knowledge of English for a moment 😡
It's like bad magic – you KNOW deep inside that on most occasions you've no problems with speaking English and you would have had a normal chat with the same person the day before. But this strange English fluency issue whereby you lose your ability to speak normally for reasons you can't even explain keeps happening again and again and it drives you mad 😡
So if you recognize yourself from my description – then you've come to the right place and I can definitely help you gain more confidence and make you into a permanently fluent English speaker!
And here's what I have in store for you.
First of all, I publish loads of useful articles on my website about all possible aspects of improving spoken English and English fluency, and from those articles alone you can gain a massive amount of free tips and tricks you can immediately apply to improve your English fluency.
Secondly, I make regular English fluency mentoring videos and publish them on my website as well. In those videos I discuss various aspects of spoken English improving and how to deal with English fluency issues and please remember – it's all FREE information you can immediately put to use when practicing spoken English either with yourself or with other English speaking people!
But the third and the most effective way you can improve your English fluency is by becoming my customer and purchasing the English Harmony System – it's a revolutionary English fluency and confidence improving system developed by me and a good friend of mine William who's a native English speaker so you don't need to worry about its content 😉
It's made up of hundreds upon hundreds of most commonly used English phrases and a unique speech exercising technique will imprint those natural English speech patterns into your mind. As a result, you'll be able to produce natural English speech automatically and easily and you'll also get a bunch of unique meditation lessons to help you overcome mental issues that prevent you from being a successful and fluent English speaker.
So enjoy all the FREE content on my website and you're welcome to join hundreds of other English Harmony System owners who've achieved permanent English fluency and confidence!
You can contact me (read Frequently Asked Questions first to see if you can find the answer there!) or follow me on Twitter, or subscribe to my YouTube account and also like English Harmony on Facebook!
Best wishes,
Robby