If you are new here please read this first.
Podcast: Play in new window | Download

Hello my friends foreign English speakers!
I'm back with another English irregular verb, and this time around it's TO BEAT.
As you know from my previous videos (if you don't, please watch it HERE, it's super-important!), you shouldn't be learning English irregular verbs by repeating and memorizing word strings such as BEAT, BEAT, BEATEN (these are the respective Present, Past and Past Participle forms of the verb TO BEAT).
Instead, you should learn each of those verb forms as part of a word combination and that way you'll achieve all the following:
You'll avoid getting mixed up when using BEAT and BEATEN in real life;
You'll be able to use these irregular verb forms without much THINKING;
You'll INSTINCTIVELY feel when to use them – just like a native speaker!
So, without a further ado, let's look at the phrases containing the various forms of the irregular verb TO BEAT, and alternatively you can watch the video or listen to the podcast above to gain even more insight into using the following phrases:
It BEATS me;
I BEAT the traffic on the way to;
BEATEN to death.
Present Tense – BEAT
The present tense of TO BEAT is BEAT (quite obviously!), and here's a useful phrase – "It BEATS me".
This expression can be used whenever you're really confused about some other person's behavior or decisions, for example, and you're responding to someone's question about it:
"Why do you think our boss just signed off John's request for a three week unpaid leave at the very height of the busy season?" – "It beats me…"
Past Tense – BEAT
This irregular English verb remains the same when used in the Past Tense, and here's a handy phrase which would normally be used when referring to an event in the recent past: "I BEAT the traffic on the way to… (work, school etc.)"
To beat the traffic simply means that you AVOIDED a heavy traffic jam either by leaving early or taking an alternative route, and here's a typical way of using this phrase:
"How did you manage to arrive on time while everyone else was at least 15 minutes late?" – "Well, I beat the traffic by taking a backroad only a few people know about!"
Past Participle – BEATEN
The third form of the verb TO BEAT is BEATEN, and while there are other ways of using it (get beaten in some sports or video game, for example), today let's learn the following expression: "BEATEN to death".
This expression comes in handy in situations when you have to describe an unfortunate situation when some person has been beaten to death by attackers. It's a scenario we quite often hear on the radio, so whenever you're telling your friends or work colleagues about it, you can use this phrase:
"Did you hear about a guy who was beaten to death in the early morning hours just because he refused to share a cigarette?"
***
There are many other ways of using the three forms of the irregular verb TO BEAT, of course, but the point I'm trying to make here is the following:
Learn how to use them in certain situations by learning useful phrases containing these verbs, and then it's going to be a whole lot easier for you to remember them!
And by the way – if you're really interested in improving your spoken English and learning all irregular verbs contextually, check out the English Harmony System HERE – it's stuffed full with irregular verbs and you'll learn how to use them instinctively, without much thinking at all!
Cheers,
Robby 😉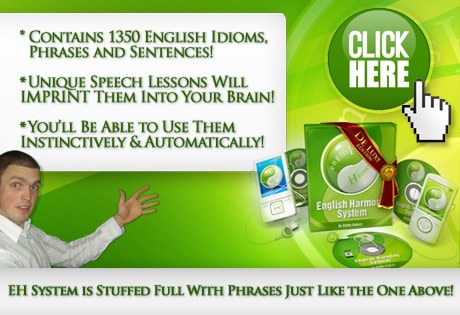 P.S. Are you serious about your spoken English improvement? Check out the English Harmony System HERE!