If you are new here please read this first.

Here's another video where you can watch me speaking in English with myself while commuting to work, and this time around I'm trying a different approach to kick-start my English fluency: speaking as fast as possible.
It's one of the different English fluency management strategies, and I know I have to resort to this one because my fluency started dwindling yesterday afternoon.
The day before was perfect, my fluency peaked at a two week high, but as it sometimes happens – a peak is followed by a drop 😡 , so I have to figure out a way of reverting back to my normal state of fluency.
This is how I manage my fluency, and there are a lot of different strategies:
slowing your speech down
speaking with an accent (or rather allowing your native accent to come to fore)
speaking using short sentences
spitting out the first thing that crosses your mind instead of composing sentences in your head
All these strategies have been tried and tested over the years, and it's all a result of my own pursuit after English fluency.
Whether I've achieved it or not – well, I'll let you be the judge of that, but I really like to think that I am a fluent English speaker because I feel 100% comfortable when speaking with myself or others!
Of course, I can't speak the same way I'd write – but then it's absolutely natural, my friends ❗
Spoken English is a whole new ballgame for those of us who've been spending years studying textbooks and reading, so here's my advice for those of you who still do that – DO SOME SPOKEN ENGLSIH PRACTICE and you'll definitely notice your fluency come along big time!
Chat soon,
Robby
P.S. Would you like to find out why I'm highlighting some of the text in red? Read this article and you'll learn why it's so important to learn idiomatic expressions and how it will help you to improve your spoken English!
P.S.S. Are you serious about your spoken English improvement? Check out my English Harmony System HERE!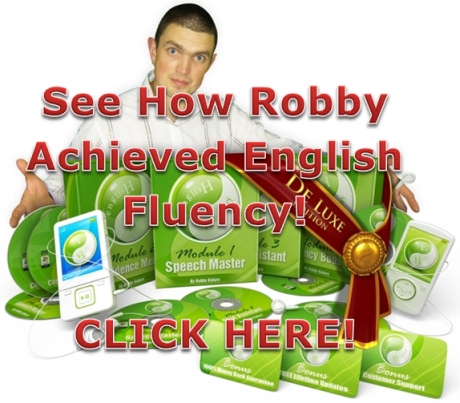 P.S. Are you serious about your spoken English improvement? Check out the English Harmony System HERE!