If you are new here please read this first.
Podcast: Play in new window | Download
Subscribe: iTunes | Android | RSS

Hi guys and welcome back to English Harmony video blog – or welcome back to my podcast in case you're listening to this as an audio file on iTunes or on my blog.
In today's video I'm going to tell you about English tenses, namely – what I think about them and how you should go about acquiring complicated English tenses.
You see, I strongly believe that way too many foreign English speakers are focusing on English tenses too early in their attempts to acquire English fluency. I'm getting plenty of comments and emails sent in asking the same questions: "I'm all confused about the tenses. Please, Robby, explain how to use this or that English tense" and questions like, "I need to prepare for this English test or for this exam" and "can you help me to understand the complicated English tenses" and so on and so forth.
Now, if it's about an exam or a test, then yes, I admit, the traditional English teaching industry requires you to analyze grammar, to understand tenses and it's a bad thing because that way you get all too focused on analyzing the language instead of speaking or writing spontaneously, right?
My approach is, you have to start learning the English language and then proceed forward with learning simple language, simple sentences, simple word combinations, simple tenses.
It's totally possible to speak using only three English tenses – Present Simple, Present Continuous, and Simple Past – and I know for a fact that a lot of YouTubers, video bloggers who come from the foreign English speaking background actually don't use complicated English tenses.
You may want to check out Lui Marcos' channel HERE.
He's a very prolific blogger. He owns a number of YouTube channels and he posts daily videos, sometimes a couple videos a day and he never uses complicated English tenses but he's completely fluent. He's even eloquent!
He has a good way with English words but you won't hear too often him using one of the simplest among the so-called "complicated" English tenses – although I don't believe there's such a thing as complicated, it's all a matter of perception and you can actually learn quite complicated grammar constructs if you just repeat and memorize them! Then they stop becoming complex, right, or complicated for that matter.
Anyway, you will almost never hear him use the Present Perfect or Past Perfect – "I've done" or "I had done" – he simply uses the Simple Past and it's totally possible to say things like: "I will have done it", which is actually quite an unnatural grammar construct but this is the Future Perfect tense (at some stage in the future I will have posted this video on YouTube, for example) but you may as well just say, "when I post this video on YouTube.. then something's going to happen", right? Just "when I post" – Present Simple.
There is no need for the complicated Future Perfect tense and even such a seemingly complicated grammar construct such as, "I've been meaning to do this for a long time" can be re-worded; you can paraphrase it to sound simply, "I wanted to do this for a long time" and there's nothing wrong with that!
Now, bear in mind that the phrase, "I've been meaning to do this" is actually a useful English phrase so when you get around to learning this particular phrase you don't have to go about that by analyzing and trying to determine what that tense is actually called.
For that matter, I wouldn't be able to even tell you now what kind of tense it is because I've stopped, to be honest with you guys, I've stopped caring about English tenses a long time ago!
I just perceive the sentence, the phrase for what it is, for what it means, and I just know that, "I've been meaning to do this for a long time" is simply how native English speakers describe the abstract concept of them having wanted to do something for a long time.
So when choosing between "I wanted to do this for a long time" or "I've been meaning to do this for a long time", you may want to learn the latter, the more "complicated" grammar construct when you're a more advanced English speaker but never, ever try to encompass all the tenses at once!
Don't try to learn the entire English grammar tenses table at once and make your goal to understand it all and be able to speak by using this or that tense as the particular situation demands. You will never be fluent if you go about your English tenses that way, so much information is simply too much.
Initially Use ONLY the Simplest Tenses!
The best way to learn to speak fluent English is to forget about complicated English tenses altogether ❗ Use very simple means of expression – Simple Present, Present Continuous – "I do", "I'm doing" – and the Simple Past – "I did". To prove to you that it's totally possibly to speak this way, from here on out, up until the very end of this video, I speaking like this – I'm only using these three simple tenses.
I could've said "I'm going to be speaking" or "I'll be speaking", but I purposefully stopped doing that because I can just substitute it with Present Continuous: "I'm speaking like this from here on out", "I'm speaking only using three tenses" and, needless to say, it's totally possible to speak that way.
"Whatever happens in the future…" – I didn't say – "whatever is going to happen" or, "whatever will happen". Whatever happens in the future – you can describe future activities using Present Simple and the simple fact of the matter is, my friends, that it's totally possible to discuss future related events just by using this simple English grammar tense.
Now, speaking of past events – I don't necessarily have to say that, before a certain period of time, I HAD DONE something, which would require that Past Perfect tense which is a more complicated English grammar tense. You can substitute it all with Simple Past and just use past forms of English verbs.
"Before I came home yesterday, my mother rang me." Normally, you would kind of be required to say, "before I came home, my mother had rung" but you can say, "my mother rang me". So whatever happened in the past, just use Simple Past. What happens now: Present Continuous. What happens in the future: Present Continuous and all the rest is just Simple Present.
Next Step – Build Phraseology Which Contains More Complex Tenses Without Actually Learning the Grammar Behind It All!
You can work with your spoken English this way: learn to speak fluently using the simplest English tenses and while doing so you can build your English vocabulary and then, when you're totally comfortable with that, you can start looking into the more complicated tenses.
Bear this in mind though – never, ever try to determine what those tenses are, what they're called, and don't learn a set of rules stipulating usage of one or another tense and then don't try to speak by way of analyzing your speech ❗
Just learn specific phrases without trying to understand the theory behind those complex grammar tenses.
If you hear something new, don't try to analyze it from the grammar standpoint, don't try to figure out what kind of tense it is, just learn that phrase like in the example of, "I've been meaning to do it." Just learn it – "I've been meaning to do it." "I've been meaning to do it."
Then, just use it in your conversations by knowing that it simply means that you wanted to do it very badly for a long time and now you've finally gotten around to it – simple as that.
And here's another grammar construct which may sound very complicated: "Had I not started this blog, EnglishHarmony.com, I wouldn't have been able to communicate with a large audience of non-native English speakers."
"Had I not", "I wouldn't have" – if all these words are too difficult for you to understand or comprehend, you can just say simply – "If I didn't start, I wouldn't be able to…" Is that a complicated grammar concept – "If I didn't start"? Not really! The next part – "I wouldn't be able" is slightly more difficult to learn – "If I didn't, I wouldn't be able to…" but, then again, it's not that difficult if you stop analyzing it and simply memorize it by repeating a good few times – "If I didn't, I wouldn't", "If I didn't, I wouldn't" – and then all of a sudden it becomes very easy to use.
So, to wrap this all up, my friends, my advice is – if you wonder about English tenses and if you get bogged down on specific details involving English tenses, just get rid of that mindset.
Approach the English language acquisition with an open mind and a simple mindset whereby you just speak simply, using Simple Past, Present Simple, Present Continuous and then build your fluency using that as a foundation.
Then, later on, to become more advanced, you can learn specific phrases which correspond to certain English grammar tenses but you don't need to learn what those tenses are called!
Don't try to learn a set of rules determining usage of one tense and then extrapolate that on your entire speech – It's not going to go down well, believe me! 😉
You'll just get all confused and your speech will be robotic, you will hesitate a lot because you'll be trying to create sentences from scratch. You're much better off simply learning specific phrases: "I've been meaning to do this", "Hadn't I done that?", "I wouldn't have been able to" and then learn that grammar construct. "Hadn't I done that, I wouldn't be able to" and then you can stick in whatever words you need but you just learn that grammar construct as a given and that's all.
Don't try to analyze what tense it is, right, and don't get bogged down into technicalities.
Perceive the English language from the simplistic standpoint whereby you speak very simply and then, later on, when you've achieved a certain degree of fluency, learn specific phrases instead of trying to learn specific rules about English tenses.
I hope this all makes sense, my friends.
If it doesn't, you're free, obviously, to ask questions by posting comments below.
Thanks for watching and I hope you enjoyed watching this video and talk to you soon again, my friends!
Robby
P.S. Would you like to find out why I'm highlighting some of the text in red? Read this article and you'll learn why it's so important to learn idiomatic expressions and how it will help you to improve your spoken English!
P.S.S. Are you serious about your spoken English improvement? Check out my English Harmony System HERE!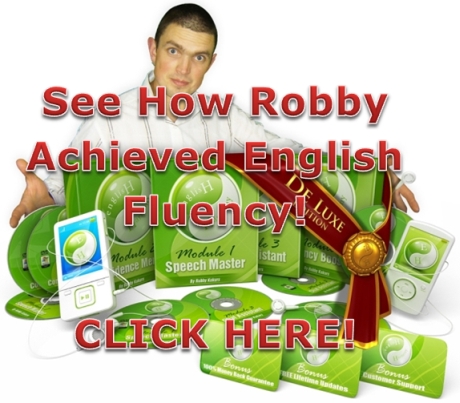 End