If you are new here please read this first.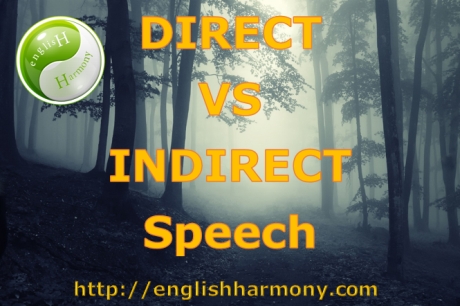 As you may already know, there are two main ways in the English language you can talk about what another person has said:
DIRECT

 speech

INDIRECT

 or the so-called reported speech
Direct speech is a word-by-word account of what the person in question said. For example, if your friend asked you "Would you mind looking after my pets over the weekend?" and now you're telling someone else what your friend had asked you using the direct speech, here's how you'd say it:
"Mark asked me "Would you mind looking after my pets over the weekend?" so I can't really go out with you on a Saturday night, sorry!"
As you can see, direct speech is very easy to incorporate into your own speech for the simple reason that YOU DON'T HAVE TO CHANGE ANY OF THE WORDS!
You simply say it the way you heard it and I think it's one of the biggest benefits of the direct speech – especially in situations when you find it a bit hard to speak in English and you hesitate and stumble upon words a lot.
Indirect speech, on the other hand, requires a bit more thought put into it, and here's an example: "My mom told me that my dad was going to take us to Disneyland the following summer, isn't that amazing?"
Now, what I want you to pay attention to is the following:
You HAVE TO CHANGE WORDS AROUND in indirect speech!
The exact words used by mom were different; here's what she said: "Dad IS going to take us to Disneyland NEXT summer!" – but when you REPORT what she said as part of indirect speech, it becomes "… dad WAS going to take us to Disneyland THE FOLLOWING summer…"
It's called BACKSHIFT and it simply means you have to change words around in indirect speech (verbs adopt Past Tense forms and words like "tomorrow" change to "the next day" etc.) if you begin the sentence with PAST TENSE – and more often than not, you will be using the Past Tense when reporting another person's speech. After all, it was at some stage in the PAST when you heard the other person speak ❗
So which one is more convenient for you as a foreign English speaker – direct or indirect speech?
Keep reading this article to find out more about benefits and advantages of using both – DIRECT and INDIRECT speech when speaking in English with other people! 😉
Direct Speech is Simpler for Beginners + Great When Dealing with Fluency Issues!
We, foreign English speakers, oftentimes experience difficulties when trying to deal with both things at the same time:
speaking and thinking about WHAT to say
thinking about HOW to say it!
So when you're trying to tell your co-worker that you've been told by your boss that two people in the team are redundant, and you're trying to speak fluently while at the same time implementing the backshift, it might be simply too much for your brain to process at the same time:
"You know, our department manager told me (it's Past Tense so it demands backshift in the rest of the sentence) yesterday that two people WERE (instead of ARE) redundant and OUR (instead of YOUR) entire team performance WOULD BE (instead of WILL BE) re-examined."
So when you're trying to speak and think of all those changes that have to take place, you may start hesitating, stumbling upon words and making mistakes.
Why such hassle?
Use direct speech instead: "You know, our department manager told me yesterday: (followed with word-by-word account) "Two people are redundant and your entire team performance will be re-examined."
No backshift, none of the verbs change tense, no other words introduced. You simply bring back the memories of your boss telling you all that, and then you try and remember how he said it.
Direct speech is especially handy when you're excited or stressed out which is when you're most prone to start making grammar mistakes, so that's when you begin your sentence with words such as:
And then she said:
And then he came to me and said:
I couldn't believe my ears when he said to me:
… and then you try and put yourself in that person's shoes and imagine YOU ARE the one who actually said it!
It's going to be much easier for you to say the direct speech if you're pretending to be the other person, so here's how it happens:
"No, we can't dispatch any orders today, here's what Zoe said: (and now you're speak as if you were Zoe yourself) "Our IT guy is going to perform a system upgrade today, so you're not allowed to use the stock management software until further notice!"
HELPFUL TIP!
You can even put on a different voice and actually try to sound like the person whose speech you're reporting to make it sound more interesting! People do it all the time and you can definitely try it out next time around when speaking with someone in English and incorporating direct speech in the conversation!
Indirect Speech Requires More Thought – But If You Automate It, It's Just As EASY!
Yes, there is this terrible thing called BACKSHIFT (changing all verbs to PAST TENSE and replacing specific, concrete words with less specific ones: HERE becomes THERE, NOW becomes THEN etc.) when you're re-telling the other person's speech, but it shouldn't terrify you because of the following three reasons:
To make things really simple, you can start the indirect speech with a statement in Present Tense in which case backshift isn't necessary;
Quite often even native English speakers don't use backshift in conversational English;
If you learn a few commonly used indirect speech patterns, the whole backshift thing becomes automatic and easy to use!
Let's cover all 3 situations and I bet you'll be able to use the indirect (reported) speech so much easier in your English conversations by following my advice below!
INDIRECT SPEECH IN PRESENT TENSE
This really is easy-peasy, and this is probably how you should start using indirect speech in your conversations to make sure you don't get mixed up in the various tenses.
So basically you start the sentence in Present Tense – despite the fact that the person whose speech you report actually said it a while ago:
"Our team leader TELLS me today we'll all work till late – so much for going out tonight as we planned…"
"Well, my wife SAYS that I can't go out tonight, I have to mind our baby, sorry about that!"
If you were to begin the sentence with Past Tense: "My wife SAID that.." – then you'd have to modify the verbs because the word SAID demands Past Tense:
"Our team leader TOLD me today we WOULD (this is also called Future in the Past) all work till late…"
"My wife SAID that I COULDN'T go out tonight…"
To make sure this grammar rule sticks in your mind you should do a lot of spoken English practice by repeating sentences such as:
He told me he couldn't…
She said she wasn't going to…
He told me I wasn't allowed to…
… which helps ingraining those speech patterns into your brain; your mind basically gets used to following one verb in Past Tense with another one in the same tense.
But here's the funny thing – this rule isn't often followed in real life conversations which brings us to the next point:
IT'S OK TO SIMPLIFY INDIRECT SPEECH IN CONVERSATIONAL ENGLISH!
Here's how you have to speak when following grammar rules to the letter:
"She TOLD me that it WASN'T (the first verb TOLD demands Past Tense, right?) her fault."
And here's how you can actually say it if you're not too concerned about being super-perfect in terms of grammar:
"She TOLD me it ISN'T her fault."
See?
It's kind of WRONG because backshift demands that the verb in the second clause changes its tense and adopts the same Past Tense, but if you're struggling with the backshift thing, you can actually leave the second verb in Present Tense if it's easier for you to speak that way.
By the way, even if you were to adhere to the grammar rules with the utmost diligence, you wouldn't always be required to change the main verb to the Past Tense.
If we talk about common-sense things in the reported (indirect) speech, for example, you don't have to do it:
"My science teacher TOLD me Sun RISES in the East" – in this case you don't have to change the verb "to rise" to its past form "rose" simply because Sun rising in the EAST is a very well-known fact.
Similarly, if you were to say to someone that your friend had told you that the bus leaves 10 minutes early today, you don't really have to say "Jay TOLD me that the bus LEFT 10 minutes early" (in which case it would bear a totally different meaning – as if the bus had ALREADY left!) OR "Jay TOLD me that the bus WAS GOING TO leave 10 minutes early" (in this case the verb is modified to a slightly different Past Tense to still make sense in the context).
You can simply say: "Jay told me bus leaves 10 minutes early" because it's a very simple, every-day thing you're talking about.
Sun rising, buses leaving, so where do you draw the line between common-sense things that don't require you to change the tenses and other actions that do require the backshift?
Here's the thing, my friends – just use your judgment, and don't be afraid of implementing this principle of leaving the verbs in the Present Tense, for example:
"Ann told me earlier today she's going to (you don't necessarily have to say SHE WAS GOING TO) get in touch with you within the next couple of days!"
INDIRECT SPEECH AUTOMATION BY LEARNING COMMON PHRASES
Colloquial, simple speech is totally OK, and so is simplifying the indirect speech.
If you want to sound like a native speaker, however, and more importantly – if you want to stop hesitating and planning the indirect speech in your head by analyzing the tenses – you may want to learn popular phrases (first parts of sentences, to be more specific) where the backshift is already included so that this principle becomes second nature to you!
Here's a few of them:
He (she) told me that he was going to…
He (she) asked me if I wanted to…
He (she) asked me if I was going to…
He (she) said that Mary (replace with any other name!) was coming
He (she) told me I couldn't…
He (she) asked me if I would be…
He (she) said that he didn't know when…
I told him (her) that I wasn't going to…
I told him (her) that I wouldn't…
I told him (her) that I didn't know if…
He (she) said that they hadn't (followed by a verb in its past participle form – DONE, GONE, DECIDED etc.)
He (she) said that we would have to…
He (she) asked if we had (followed by a verb in its past participle form – DONE, GONE, DECIDED etc.)
Basically the idea is to use such and similar phrases A LOT – repeat them again and again, use them in different contexts till you get used to the idea of using the verbs SAID and TOLD (and others that usually go with the indirect speech – INFORMED etc.) with another verb in the Past Tense or Past Perfect Tense where required.
Now, have you got any questions, my friends?
I bet you do – so post them in the comments section below and I'll respond to your queries as soon as I possibly can! 😉
Thanks for reading my blog,
Robby
P.S. Would you like to find out why I'm highlighting some of the text in red? Read this article and you'll learn why it's so important to learn idiomatic expressions and how it will help you to improve your spoken English!
P.S.S. Are you serious about your spoken English improvement? Check out my English Harmony System HERE!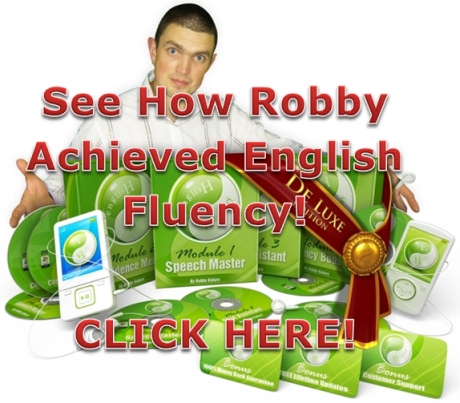 P.S. Are you serious about your spoken English improvement? Check out the English Harmony System HERE!