If you are new here please read this first.

Hello everyone from YearOfEnglish.com and welcome back to my video blog! 😀
I've been away from video production for quite some time due to my hectic summer schedule, but do you think my English fluency has worsened while I haven't been recording a lot of videos on a regular basis?
Not really!
I've simply made it impossible for myself to avoid the English language, and even if I wasn't using it in my day-to-day conversations with work colleagues, I'd still be constantly exposed to it!
First of all, I'm taking notes in my daily planner in English thus making sure I regularly use the English language even when I'm gone on holidays back to my home country, for example.
Secondly, I only ever look up information online in English; I can't even remember when I did the last lookup in Latvian!
Thirdly, I read and watch TV in English only. Well, except for a rare occasion when I just can't avoid it; other than that however, I've made sure enjoying books, TV shows and films in English has become my second nature.
Fair enough, I do live in an English speaking country and you may argue it's pretty impossible in my situation to avoid the English language anyway and all this advice isn't really actionable for someone living in a foreign country.
Guess what?
There are plenty of foreigners living in their own language "bubble" while residing in an English speaking country – I personally know quite a few of those, by the way! – so living abroad isn't necessarily going to ensure effective improvement of one's English fluency.
When improving your English (spoken English in particular), you always have to make sure you make effort to learn new things and practice your English on an on-going basis, and it's entirely possible while living in your own country.
Basically the message I'm trying to communicate to you today is the following:
No matter where you live and what you do, you have to make sure you can't avoid the English language if you're really serious about your fluency improvement.
The best resolutions have a tendency to fail from time to time, and I fully understand that you will not always be as dedicated to ACTIVELY pursue your fluency improvement related activities as you'd like to be. And that's exactly why it's so important to create habits to do certain things in English; you simply won't have any choice BUT to use the English language to do this or that particular thing!
If you set your smartphone's default language to English, for example, you won't be able to avoid it!
The very same goes with every other aspect of your life – whenever possible, go for English as the language of your choice no matter what type of activity you're involved, and you'll see your English improvement speed up big time ❗
Thanks for tuning in,
Robby
P.S. Would you like to find out why I'm highlighting some of the text in red? Read this article and you'll learn why it's so important to learn idiomatic expressions and how it will help you to improve your spoken English!
P.S.S. Are you serious about your spoken English improvement? Check out my English Harmony System HERE!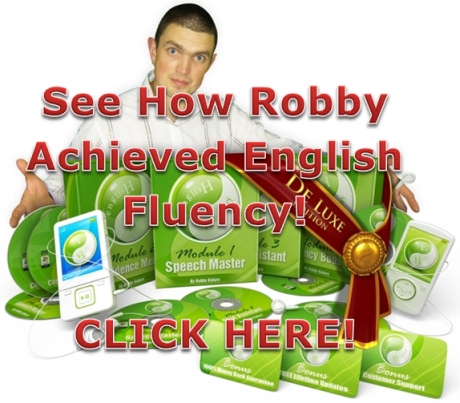 P.S. Are you serious about your spoken English improvement? Check out the English Harmony System HERE!