If you are new here please read this first.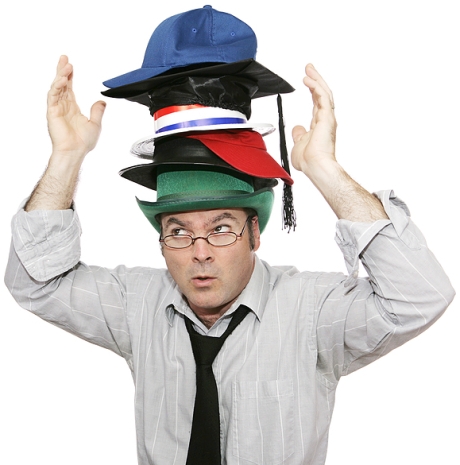 I'd be totally lost if you started talking with me about herbal medicine, carpentry or car tuning and modification.
On the other hand, I'd have a comfortable conversation with someone who's dealing with knitwear because I've been working in a knitwear factory for well over three years now and I know the manufacturing process inside out!
Do you see where I'm coming from?
You can't expect anyone to speak equally well about any given topic in English because every person's profile is different ❗
I would find it difficult to name but a few popular flowers such as roses, daffodils and tulips. Some other foreign English speaker working in a flower farm could probably name any possible flower that can be seen in a flower shop!
And it's not just limited to specific industry terms.
If you started bombarding me with the latest news from the English Premier League, nearly all of that information would be lost on me because I'm not into soccer. Well, if you were patient with me and took time to explain little details and everything, then yes, of course I'd understand. It's just that when I hear other guys discuss soccer at work, I don't even try to follow their conversations – let alone trying to take part in the discussion!
I mean – what's the point in pretending to be a know-it-all if I actually don't know much about this or that particular subject?
Don't Mistake Inability To Say Something For Lack of Fluency!
As we just concluded, one of the reasons why you might not be able to speak fluently about certain subjects is your lack of expertise and knowledge about the matter at hand.
Or maybe you've had too little time to think about the particular topic to start telling a fluent story about it?
Have you ever seen video footage of celebrities or politicians being so surprised by paparazzi and reporters that they find it hard to come up with something reasonable to say? Moreover – these people in question are native English speakers, so what do you have to worry about being a foreigner?
Personally I've stopped caring about opinion of others a long time ago, and I warmly suggest you do the same.
Of course, it's not an excuse for lack of functional English vocabulary such as various idiomatic expressions  that can be used when discussing just about any topic.
The point I'm trying to make here is – if you find yourself getting a bit overwhelmed during a conversation and you're unable to form a coherent speech, don't jump to the most obvious conclusion that your English fluency is bad.
Same goes with hearing another foreign English speaker.
Don't judge others just because they're struggling a bit with an English conversation in that particular point in time!
It Doesn't Mean, However, That You Can't Talk About EVERYTHING!
Now I'm going to deny everything I've said so far in this article.
He-he, I'm just joking! 😀
Putting all jokes aside, I admit that it does sound a little bit controversial. But I'll do my best to explain my point so that you can clearly see where I'm coming from when making a statement in the above headline.
Basically the whole concept of English fluency can be explained by the following two premises:
Specific terms and vocabulary used when discussing familiar subjects;
Simple language used when discussing unfamiliar topics.
That's it!
If you're having a conversation, discussion or a debate about something you're familiar with, you won't have much difficulties speaking about it. Unless you're experiencing one of those dips in fluency, of course, and then you have to resort to certain English fluency management techniques to get back on track.
If you have to talk about subjects you don't know much about, the second approach applies – SIMPLICITY.
I believe that any foreigner – you and me included – knows SOMETHING about EVERYTHING. It may not be enough to participate in a high-level scientific debate, but enough to say a few sentences if the occasion demands you to say something.
Redefining English Fluency
I remember hearing the following language fluency definition: "One can be considered fluent in a language if one can converse about a wide variety of subjects with ease".
I may have gotten the wording a bit wrong so I had to improvise a little bit, but I'm pretty sure I captured the thought precisely enough.
So, here's why I'm not 100% OK with the aforementioned definition.
If foreign English speakers believe that they will achieve fluency in the English language only when they can discuss a WIDE VARIETY OF SUBJECTS (sounds a bit intimidating, doesn't it?), they may develop a certain lack of confidence.
Fluency will seem like an epic task so distant and so unachievable, that it may result in a lack of motivation to develop and grow one's vocabulary and phraseology.
I like to focus more on practical SITUATIONS instead of abstract subjects.
This is how I would define English fluency: "One can be considered fluent when one can easily speak in English in regularly occurring situations."
I think it sounds less intimidating and doesn't place a massive mental burden on the foreigner who's trying to achieve fluency in the English language.
This fluency definition also emphasizes the importance of regular situations and the need to learn essential vocabulary.
Putting grammar aside (the same grammar rules apply when speaking about last Christmas party or discovery of a new Earth-like planet – there's actually no such thing as advanced English grammar!), one can acquire the essential vocabulary used in daily conversations relatively quickly.
You can spend decades learning sophisticated English vocabulary lists, and that's all right if you aspire to achieve a native-like fluency.
But you can achieve real-life English fluency much, much faster if you first focus on vocabulary that you absolutely have to know.
Learn the essentials.
Become fluent in a year's time.
THEN spend the rest of your life filling in gaps because after all, English learning and improvement is a lifelong process.
By changing your perception of what constitutes English fluency, however, you can make the epic task seem so much more manageable and achievable! 😉
Robby
P.S. Would you like to find out why I'm highlighting some of the text in red? Read this article and you'll learn why it's so important to learn idiomatic expressions and how it will help you to improve your spoken English!
P.S.S. Are you serious about your spoken English improvement? Check out my English Harmony System HERE!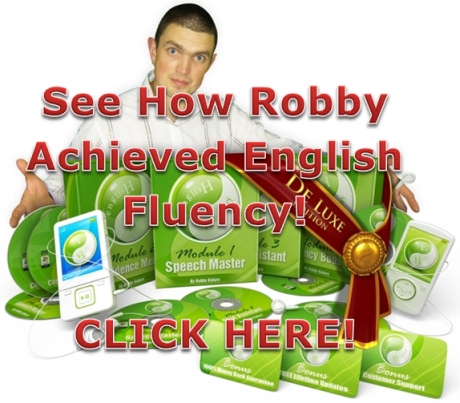 P.S. Are you serious about your spoken English improvement? Check out the English Harmony System HERE!