If you are new here please read this first.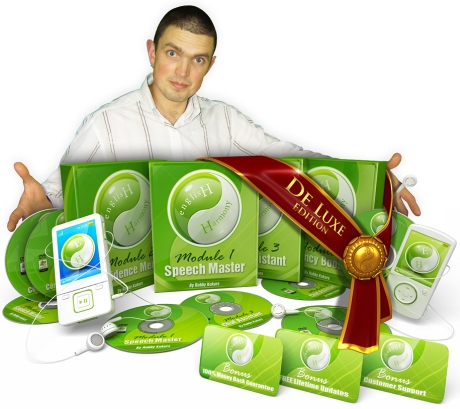 My dear fellow foreign English speakers!
I'm happy to announce the updated version of the English Harmony System, and this time around it's called DE LUXE EDITION ❗
Get your copy of the English Harmony System de Luxe Edition RIGHT NOW!
I've been working on this update for what seems like forever, but finally it's ready to be released to the general public and I'm really excited to make this announcement today! 😀
So, without a further ado, let me tell you what exactly the new System's update consists of, and what you can expect the new de Luxe Edition to do to your spoken English fluency.
New Module with another 30 Speech Exercising Lessons!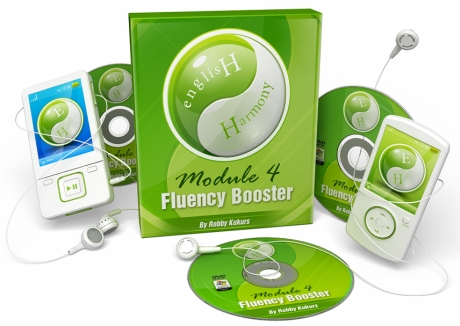 Up until now, there were 2 Speech Exercising Modules in the English Harmony System, and the total number of lessons contained within the 2 Modules – Speech Master and Chat Assistant – was sixty.
Now, with the addition of the fourth Module – Fluency Booster – you're going to get NINETY speech exercising lessons (containing 1350 most commonly used English phrases, idiomatic expressions, sentences and speech patterns to be wired into your brain + an equal amount of phrases you will be exposed to), and I think it's truly an impressive number!
Module 4 Fluency Booster is focusing mostly on topics which are extremely relevant for any foreign English speaker who's settling down or living in an English speaking country; here's just a few of the 30 lesson topics:
Lesson 3 – Weather Small Talk
Lesson 5 – Gossiping
Lesson 7 – Asking and Giving Directions
Lesson 13 – Contacting Property Agents
Lesson 20 – Social Welfare
Lesson 24 – Bank Loans & Mortgages
Lesson 29 – Signing Contracts
As you can imagine, getting English small talk right is very, very important in order to fit into the local society and function in everyday work and social settings. That's why a third of the new lessons are dedicated to small talk exclusively, and it covers a wide range of situations – starting from simple greetings and ending with gym small talk.
Judging by how popular my English Small Talk page is, most of my blog readers realize how important it is to be able to provide short, quick and casual responses to questions like "Isn't it so hot today?" or "How have you been?" Such small talk doesn't really require elaborate answers, and that's actually one of the pitfalls many foreign English speakers fall for.
We often try to say something very meaningful and as a result we may get overwhelmed by the conversation, while in reality it doesn't have to be like that if you know a lot of small talk related speech patterns.
Well, guess what?
Module 4 Fluency Booster has just the right small talk conversation simulations for you so that you can become a whole lot more confident and fluent in casual situations!
There's also plenty of speech exercising lessons dedicated to situations you'd encounter when dealing with all sorts of institutions in an English speaking country – starting from property agents, welfare officers and ending with your child's school principal.
The reason why I included such lessons in the new Module Fluency Booster is because I've been living in an English speaking country since the age of 23 and I know only too well how difficult it is for a foreigner to deal with all the institutions if you struggle to get the message across to the person you're communicating with.
Now, you don't have to struggle anymore.
You can do the speech exercising lessons contained in the new Module 4 which are based on the spaced repetition principle and will imprint all those natural English speech patterns into your brain!
Next time around when dealing with real people in real life situations, those speech patterns will find their way into your speech by themselves, believe me! It might indeed sound too good to be true, but that's exactly how the English Harmony System works!
Get your copy of the English Harmony System de Luxe Edition RIGHT NOW!
Updated eBook "English Harmony: Insider's Secrets"!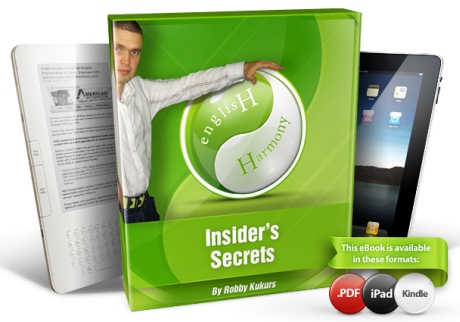 Your understanding of problems surrounding English fluency issues wouldn't be complete without knowing my history.
How I fell into love with the English language, what factors contributed to my inability to speak fluently and struggle with simple daily English conversations for long years, why the breakthrough moment happened and why I realized what I had to do in order to speak English fluently – all this and more is explained in the updated version of the eBook "English Harmony: Insider's Secrets" in bigger detail than before!
I also updated English fluency and confidence management techniques and methods contained within the eBook because of my latest revelations in the field.
You see – when I was writing this eBook almost three years ago, I was yet to understand some really elaborate details concerning our confidence and how it affects our ability to speak English fluently.
I had covered the basics and I fully understood WHY we sometimes struggle to speak fluently despite actually being able to speak, and HOW to deal with those issues changing nothing more than just our attitude and perception of ourselves as foreign English speakers.
Now, having been writing about these issues for four years straight, I have so much deeper and thorough understanding of the confidence related problems and how to deal with them. Just check out this article, for example, where I'm drawing parallels between speaking English and sword fighting and how emptying your mind and allowing your reflexes do all the work allows for the best performance in terms of speaking English fluently.
So basically all my latest revelations are reflected in the updated version of the eBook "English Harmony: Insider's Secrets", and as a result you'll have it even easier to deal with your own English fluency issues!
And did I mention this eBook is now available in 3 different formats?
You can read it on your PC or laptop as well as other e-readers such as Kindle or even your iPad, so now it's even more convenient for you to familiarize yourself with all the theoretical stuff before you start doing the speech exercising lessons!
So, what are you waiting for?
Get your copy of the English Harmony System de Luxe Edition RIGHT NOW, and please bear in mind that I left it at the same low price tag of $67 – so there are no recession fueled price hikes here!
English Harmony System's Technical Parameters
The English Harmony System de Luxe edition consists of 7 files – 4 EXE files – 1 for each Module – and a PDF, EPUB and MOBI files for the eBook.
The four Module EXE files can be run on any PC or laptop using Windows OS.
Broadband Internet connection is required to connect to a secure server in order to register the program and view the System's contents.
Best Regards,
Author & English Fluency Expert
Robby Kukurs
P.S. Are you serious about your spoken English improvement? Check out the English Harmony System HERE!