If you are new here please read this first.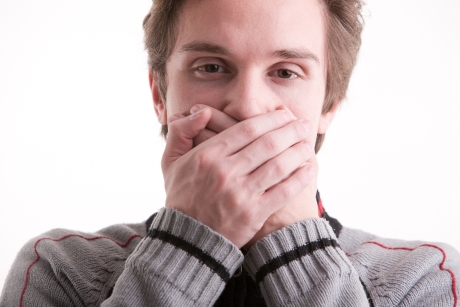 Are you having situations when your conversation with an English speaking person suddenly stops because you're struggling to find the right words to say? Let's say, for example, you're having a chat with one of your colleagues during the launch break. He starts talking about last night's soccer match and expects you to make some comments about it.
You open your mouth to start telling something related to what he just said, but … nothing comes out! You're very eager to say something so that you wouldn't go down in your workmate's estimation – but you just can't utter more than a few sounds like – well… ehhh… ahh….
Or even worse – you might try to force yourself to speak something related to the subject. As a result, you can start mispronouncing words like – was the player really regle… relege…relegated…
I know this feeling when you can't speak at all although deep inside you know that you're pretty good at writing, understanding, reading and also speaking English. It feels terrible! Especially because you don't have a real explanation as to why such moments of very bad speech are happening. Well, on many occasions it is how the English fluency issue manifests itself. Countless foreign English speakers on the world are facing this issue on a daily basis and it's all because of how English is traditionally taught. But it's not always the case!
Just stop for a moment and try to remember a similar situation – but as opposed to speaking to an English speaking person, try to remember an embarrassing encounter in your native tongue. Have you really not experienced the same embarrassment of not being able to talk about a specific topic or discuss something that the other person was really interested in? Or you simply wanted to impress someone and attempted to talk about something you're not familiar with? I bet you have – and so has everyone! I can remember at least a dozen of occasions when I've been with some other Latvians and went all red because I started stuttering and couldn't speak at all!
So now let's try to make the connection between those embarrassing situations when speaking English AND our native languages. The question stands – what is the common thing in ALL those occasions? The answer is very simple – it's the desire to please the other person! Yes, simple as that! By trying to look smart it's very easy to make a fool out of ourselves in all life situations no matter what language we're using!
And here's how to distinguish such situations from the ones which are caused by the lack of English fluency AND how to manage them.
The next time when you're asked something you're not really familiar with, or you're taken aback by something very sudden – just – STOP. Yes, stop for a few moments and think the situation through. Don't try to rush with speaking as it's not actually as important as it may seem! Many of us – foreign English speakers – have the wrong concept of importance of a swift reply and fast speech. But it's actually very wrong!
So once again – when you feel you're going to be struggling for words – stop and ask yourself a question: Do I actually KNOW what I want to say, or I'm going to ATTEMPT to say something to look smart or try to save the situation?
If it's the first one – and you realize you actually know what you want to say but your mouth just can't produce the needed words and sentences – it means you lack the natural English word combinations that every fluent English speaker has in their vocabulary. Just visit EnglishHarmony.com and check out what I can offer to you to fix this problem.
But if it's the latter – there's a simple technique you can use to manage those embarrassing moments.
Just be frank and don't try to please the other person by telling things that you think he or she wants to hear! Be yourself, and admit that, for example, you're not familiar with the topic OR that you haven't got an opinion on it.
If we go back to the beginning of my video when I was telling you about your workmate asking for your opinion on last night's soccer match – your answer could actually be something like – Well, I'm not really into soccer, you know!
You see – it's as simple as telling the truth! On another occasion you could simply say – well, sorry, I really don't know what to say now! Yes, simple as that! People shouldn't be embarrassed to admit that they don't know something. It's just natural that not everyone can be familiar with everything.
For instance, if I was having a chat with someone in my native tongue and I was asked who I think is going to win this years F1 Cup – I'd tell that person – Well, I haven't got a clue! I wouldn't be bothered to start recalling the F1 teams and drivers and say something just to sound smart!
The very same goes with the English language. Plenty of those embarrassing moments when you feel you suddenly can't speak normally can be put down to your desire to sound smarter. And since English is our second language, we tend to take such situations very personally.
However, if it's really the lack of English fluency – just click here and I'll explain you everything – why the issue is there, what causes it and also – how you can deal with it!
OK now, thanks for staying with me and I wish you all the best with your English speaking!
Talk to you soon,
Robby
P.S. Are you ready to get on the fast track to spoken English fluency? Check out my English Harmony System HERE!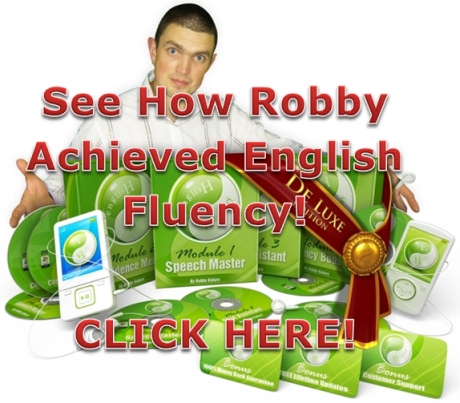 P.S. Are you serious about your spoken English improvement? Check out the English Harmony System HERE!