If you are new here please read this first.

Current Goal: Learn 50 American Phrases in 25 Days!

Hello my friends!
Yesterday I published the second video where I'm using multiple phrases in a single spoken English self-practice session, and this time around I did phrases 13 through to 24 which forms the second set of dozen phrases out of my 50 American Phrase Acquisition Mission.
Now I'm ready to move on, and let me introduce you to the phrase number 25 which is somewhat unusual: I JUST…, IS ALL!
So, in what situations can you possibly use this colloquial expression?
First of all, this phrase will definitely come in handy when your actions have resulted in something wrong, and then you're being confronted because of that:
"Why did you let the dog into the living room? Didn't you know he was going to wreak havoc if left unattended?"
"I JUST wanted to play with him, IS ALL!"
Secondly, you can use this American English phrase when providing a genuine explanation for something gone wrong as opposed to just an excuse:
"Tell you what, it was the last time I'm listening to your advice on how to throw a birthday party – I ended up spending an awful lot of money on drinks in the bar; a house party would have been much cheaper!"
"I JUST wanted you to have a good time, IS ALL!"
Want to find out more about this American English expression?
Watch the video above!
Regards,
Robby 😉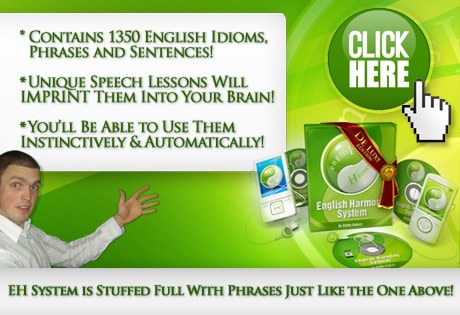 P.S. Are you serious about your spoken English improvement? Check out the English Harmony System HERE!