If you are new here please read this first.

You've figured out that your English needs improvement. You've been putting it off for a long time but finally you're ready to get down to the business. Maybe it's the circumstances forcing you to start working on your English improvement – such as moving to an English speaking country or facing English speaking customers at work.
Maybe you just feel like starting something new and refreshing your English knowledge sounds like a good idea.
Whatever the reason – don't jump into 101 activities for improving your English unless you've watched the 25th English Harmony Video Episode!
It's a MUST see video if you don't want to end up in a vicious circle of chasing your tail ❗
And if the video playback doesn't work for some technical reason – here's the video script below:
— — — — — — — —
Good day my friends foreign English speakers! I'm coming with the next – this time 25th installment in English Harmony video series and today we'll talk about narrowing down focus of your English improving endeavors.
What focus I'm talking about? OK, let me bring you a typical example. I often see a question "How can I improve my English?" or "What are the best ways to improve my English?" on English learning forums, Yahoo Answers, and other websites.
101 Ways To Improve Your English – Isn't It Too Many?
A typical answer on the question 'how to improve my English?' comes as a list of 7 to 10 general ways of improving English and often each of them is broken down into 2 to 3 detailed sub-steps. The list would begin with:
To improve your English you have to immerse yourself in English environment.
First of all, read plenty of English written material to deepen your understanding of the language. If you're not comfortable with reading books yet, start with newspapers and news websites on the Internet.
Secondly, there's a number of really good websites where you can work on your English grammar skills by doing interactive tests.
Thirdly, you can go online and make English speaking friends and chat with them using Skype and e-mail each other.
Next thing – listen to spoken English a lot – TV, radio, podcasts – in other words, go for complete immersion in the English language!
You can also participate in language exchange programs online where you can improve your English skills with a native English speaker in exchange for teaching your native language to that person.
Another great way of improving your English is through music – you can learn popular songs and sing along.
You can also…
And the list goes on and on, and when the person having asked the question looks at it they think – "Wow! That's a comprehensive answer! All of those steps are obviously necessary to improve my English! Let's go for it!"
So these type of replies get chosen as the best answers on Yahoo Answers, they get thanked for on forums and this all adds to a general conviction among English learners and improvers that you have to do all 101 things at once to make a real difference in your English improving curve!
Narrow Down The Focus!
And here we can start talking about focus. Such a 'to-do' list is way too general and if an average foreigner wanted to work on the whole list he would spend the whole day chatting on Skype, while reading a newspaper and going trough English grammar exercises on one of those 120 websites online. And of course, we can't forget he can't be late for the English classes in the evening, and he also needs to find time to go to karaoke bar to sing along and improve English that way! 😉
I hope you understand I was being sarcastic and exaggerated a bit in order to make my point, but I believe that it is wrong to give such a comprehensive list as an answer to a question – 'how can I improve my English?'
You see, it's impossible to say from the question alone which area of English the person wants to improve ❗
General English knowledge can be boiled down to a few main areas such as speaking, understanding, reading and writing, and also vocabulary and grammar. These areas, of course, cannot be strictly separated as they overlap and form the overall English knowledge.
For the most part, however, foreigners lack in one or two areas but they just haven't analyzed it deeper and assume that it's possible to improve all at once. Well, sometimes of course a person needs improvement in all aspects of the English language, but then I wouldn't call it 'improving English'!
If you need to improve everything, especially vocabulary and grammar, then you basically need to LEARN English which is beyond my scope and what I teach at EnglishHarmony.com! 😉
Anyway, I believe that first of all you need to establish what exactly you need to improve so that you can improve the relevant area of English efficiently. If you try to do a hundred things simultaneously you can't really focus on any of them and you'll only conjure up an illusion that you do a lot.
Focus On What You REALLY Need To Improve!
Let's say for instance, that you've been living in an English speaking country for a while and you've picked up the language conversationally. In this case chances are that you don't know how to write in English and that would be the main focus of your English improving endeavors.
If, on the other hand, you've learnt the English language the traditional way by writing, studying grammar and reading, you definitely lack communication skills. In this situation you should put the main focus on speaking and expose yourself to plenty of socializing to get your speech going.
You might also have a problem with understanding English. You speak and write well, but when it comes to speaking with natives or watching TV shows much of it is lost on you. In this case your focus would be on exposing yourself to listening English as much as you can so that you can function properly in an English speaking society or English environment at work.
So the most important thing I'm trying to hammer home today is – if you realize that your English needs improvement, analyze it a bit deeper and try to understand what exactly you lack ❗
A typical error foreigners make is by jumping into grammar studies when they actually need to work on their spoken English.
They even ask the question "How can I improve my English grammar?" without realizing that their grammar and writing is already at decent level, and if they focus on speaking English, other aspects of the language will also come along. Why? Well, it's simply because real spoken language already contains essential grammar and you'll learn it without focusing exclusively on doing grammar exercises!
So let's recap today's lesson.
First of all, if you need to improve your English, figure out what it is – speaking, understanding, or writing and reading.
Secondly, pick one or two main activities depending on your target area of English improvement.
Thirdly, engage in these activities regularly for 10 to 20 minutes every time rather than having rare sessions 1 hour each. That'll ensure better information retention and you basically won't lose what you learn!
Let's say you need to improve your writing and reading. You can start with reading simple newspaper stories and then rewriting them. Then correct your mistakes by comparing your writing with the original or using Spellchecker if you use a computer. Do it twice daily for 10 minutes each and stick with it for a few weeks. As you improve, increase the level of difficulty and start adding on some grammar tests to get your formal English writing in good shape.
So as you can see, I'm not saying you have to do only one thing. No! What I'm saying is – focus only on a few MAIN things because you'll get more done! Multitasking doesn't really work when it comes to improving your English and this really is the occasion when too much of good stuff makes it worse!
Robby
P.S. Have you figured out it is spoken English you want to improve? Check out my English Harmony System HERE!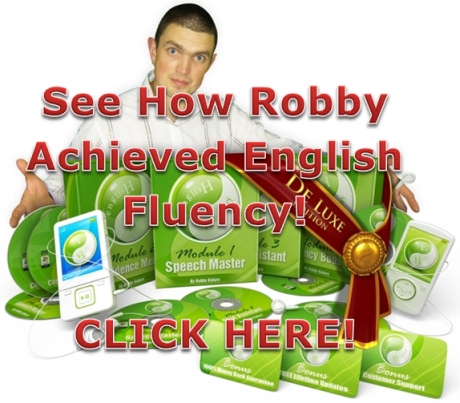 If you liked this video blog post – share it with your friends using the social bookmarking tool below!
P.S. Are you serious about your spoken English improvement? Check out the English Harmony System HERE!