If you are new here please read this first.

Are you facing a situation where even after a longer period of time you're not seeing any significant English fluency improvement?
Are you doing everything imaginable in order to develop your English fluency but it just doesn't seem to be happening?
Are you:
…only to discover you still run into all sorts of fluency related issues?
RE-EVALUATE.
Look at your fluency improvement routine and ask yourself a single question:
How long do I SPEAK in English (it's not to be confused with the TOTAL amount of time being engaged in a conversation with someone else!) on a daily basis?
Another question I want you to ask yourself is:
Am I making sure to ingrain new phraseology into my brain PROPERLY (by a way of spaced repetition so that you can use this or that particular phrase 100% automatically!), or am I just adding all these new phrases to my passive vocabulary?
If your answer to the first question is anything less than 30 minutes and the second answer is NO, then you should seriously reconsider your whole English fluency improvement routine, and you're welcome to watch the video above to see why speaking on you own is by far the best way of accelerating your fluency improvement!
Chat soon,
Robby
P.S. Are you serious about your spoken English improvement? Check out my English Harmony System HERE!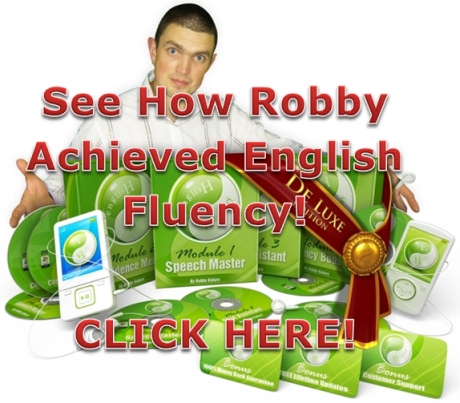 P.S. Are you serious about your spoken English improvement? Check out the English Harmony System HERE!