If you are new here please read this first.

Hello my friends! 😉
I'm back with another video dedicated to the YearOfEnglish.com audience, and this time around I'm going to focus on the importance of ROUTINE when it comes to your spoken English improvement.
And to be honest with you, my friends, routine determines success in any aspect of your life.
Are you really good in your job and your work colleagues value your expertise and they know they can always rely upon you? Well, it's only because you've been doing certain things ROUTINELY and as a result you've become very good at them!
Are you very knowledgeable in terms of computer hardware and all your friends are always seeking your help whenever they have their PCs or laptops playing up? Well, guess what – it's your computer related ROUTINE over the years that has made you so good at it!
And if you're mad into fitness related activities and you can proudly claim to have a 10% body fat level and you're staying fit all year round – isn't it your workout and nutrition related ROUTINE that had enabled you to achieve such amazing results?
Of course it is ❗
If you didn't engage in the respective activities regularly enough, you wouldn't have become so good at it, it's simple as that!
There's only one thing I don't like about the word 'routine'.
Oftentimes we attach quite a negative meaning to it, so whenever we want to describe our boring lives we say: "Everything in my life is such a routine, I wish I could do something exciting…"
Well, of course it's worth injecting some excitement in our lives by doing something unpredictable sometimes, but it doesn't mean that 'routine' is something inherently bad.
In fact, any routine is CRUCIAL in order to achieve something in life; if you want to be successful, you simply have to create a routine around this or that particular task so that you can develop your skills and expertise in the area!
Spoken English and fluency improvement is no different, so you're welcome to watch the video above to see exactly what I have to say in this regard!
Your Fluency Gym Coach,
Robby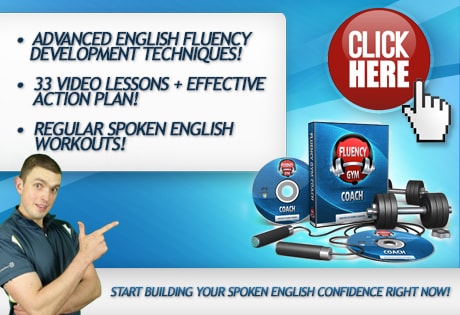 P.S. Are you serious about your spoken English improvement? Check out the English Harmony System HERE!