If you are new here please read this first.
Podcast: Play in new window | Download

Hello my dear fellow foreign English speakers! 🙂
A few days ago I re-opened my Skype-based English fluency coaching program Fluency Star and needless to say, the available places filled in quickly enough and I had to close it down for another 2 months while I'm working with my new students.
But wait…
I don't actually like the term "students".
It sounds too traditional – almost as if I'm putting myself on a pedestal and forcing those who I teach to look up to me.
That kind of an approach has never worked in favor of those who are being taught no matter what discipline we look at – math, science or English – you name it!
Why?
First and foremost – it's because the teacher is just showing off his or her superior skills and knowledge thus leaving the poor student in the same position where they were previously.
A Good Skype Teacher Will Bring Out the Best in YOU Instead of Showing Off!
We've all become accustomed to the image of a teacher standing in front of a classroom radiating authority and exhibiting their expertise in the field.
In my book, all it does is causes anxiety and frustration in students for the following reasons:
They're acutely aware of how much superior their teacher is and they automatically feel inferior;
They're afraid of making mistakes and being wrong because the educational system punishes us for being wrong.
Yes, the traditional way of teaching stuff is good for the academic system because they make money out of you and the taxpayer who pays teachers' wages.
And yes – it's bad for YOU because you're finding it very hard to actually improve your skillset in the area unless you invest a lot of time and effort into the process on your own.
So, if you're talking over Skype to a native English speaker who's an expert English teacher, it doesn't mean anything.
Just because he's an expert English teacher, won't make you an expert English speaker!
He or she can speak all they want, but unless you're speaking and doing what's required in order to gain conversational English fluency – you just won't somehow magically soak all their knowledge into your brain and you won't start speaking the same way just because you listen to them.
The bottom line is: you can choose to pay a native speaker for Skype teaching just because they're a native English speaker, or you can choose to hire me 😉
I may not speak PERFECT English all the time, but then again – I know what YOU have to do in order to improve your English!
As I said – it's not so much about my OWN English skills as it's about my ability to bring out the best in you!
Related article: Why Being a Foreign English Speaker Gives Me an Edge Over ANY Native English School Teacher
Robby
P.S. Would you like to find out why I'm highlighting some of the text in red? Read this article and you'll learn why it's so important to learn idiomatic expressions and how it will help you to improve your spoken English!
P.S.S. Are you serious about your spoken English improvement? Check out my English Harmony System HERE!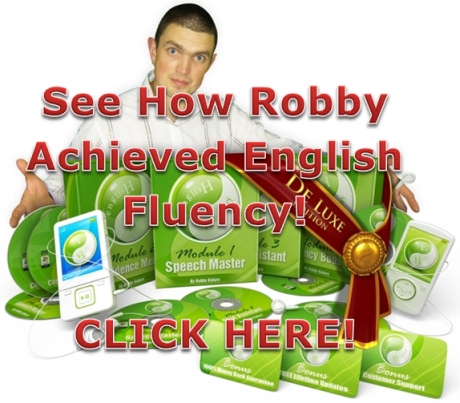 P.S. Are you serious about your spoken English improvement? Check out the English Harmony System HERE!