If you are new here please read this first.

Hi boys and girls ❗
I'm going to learn some American English phrases within the next 25 days, and I'm going to shoot for 50 phrases in total.
Here's the video I published yesterday on my English Harmony blog where I announced this mission, and it's all done as part of my Fluency Gym Coach Program (FGC – hence the title on the video "FGC Goal #1") where people can set their own English confidence and fluency improvement related goals and achieve them using my program as an effective framework.
My goal is basically to add 50 new American phrases onto my active vocab, and the first phrase I'm doing today is TELL YOU WHAT.
It's a very handy way to make your point when speaking with another person, and it could be put into other words simply as HERE'S THE THING.
What's the difference then between HERE'S THE THING and TELL YOU WHAT? – you may ask.
Tell you what – sometimes it's really hard to put it into words, so better watch the video above where I'm using the phrase TELL YOU WHAT quite a few times and you'll get the full picture on how this American English phrase is used in real life conversations! 😀
See you tomorrow,
Robby 😉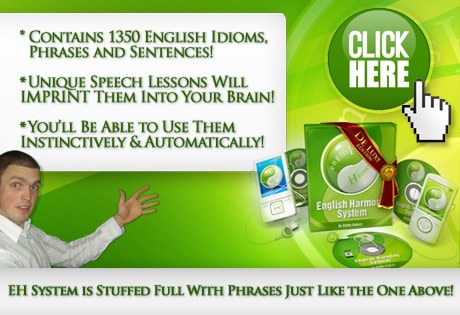 P.S. Are you serious about your spoken English improvement? Check out the English Harmony System HERE!