If you are new here please read this first.
Podcast: Play in new window | Download

Hi guys, hello my dear foreign English speakers, and welcome back to Robby's English Harmony video blog where we talk about all things related to English fluency and obviously the related issues such as inability to say something basically.
You're having a conversation with someone, that person asks you something and all of a sudden just like with a wave of a magic wand, you are unable to say anything at all.
And you go like "a-a-a", not being able to say anything, right? This is a typical English fluency issue. And it's all about how you've been learning the English language. Most likely, you've studied the English language as an academic discipline. You've been doing loads of textbook exercises, grammar, vocabulary, all that kind of stuff but you haven't been focusing on developing your speech, right?
But just because the whole English teaching system is centered around grammar and filling in gaps in textbooks and all that kind of stuff, right? It's all centered around those activities. It's very hard for the average foreigner to see the wood for the trees which is an English idiomatic expression meaning you can't really see the truth, right? It's hard to distinguish what's what.
And why I'm bringing up this particular issue again in this video is simply because I had a conversation with someone over the last few days. And that person told me that they're having this particular issue and they thought that they were alone in this, right?
And I can tell you that it was a woman basically, so I'll stop referring to them as "they" which is a way native English speakers would talk about a person when the gender is really unknown, you know?
You don't know whether it's a man or a woman, so you can refer to one person as "they", right? It's done conversationally all the time. It's not an error, it's not a mistake. In case you thought – "why is Robby referring to one person as they", right?
It was a woman and she basically says that "I'm having this terrible issue and I don't know what's wrong with me."
And I'm telling her "Listen, there's loads of foreigners just like you or me having this type of issue!"
And I had this issue years ago. And that is one of the reasons – as a matter of fact it's the biggest reason why I started the whole English Harmony blog and everything to teach others that that issue is a direct result of the academic environment and how this issue can be solved by way of constant spoken English practicing, learning idiomatic expressions and speech patterns and all that.
And she was really surprised. She didn't realize that she wasn't alone in that. She thought that it was a sort of a mental issue that she was having which actually reminds me of exactly how I was feeling all those years ago!
I was feeling the exact same way. I thought I was alone in that. I thought that there was something wrong with my head seriously. I thought I was having some sort of a mental issue which prevents me from speaking normally with others because when I was observing other people's conversations, nobody seemed to be having those kinds of issues, right?
And that's the message basically I wanted to send to you my friends in case you're listening to me for the first time and only now you become aware of the origins of your fluency issue and only now you're realizing that you're maybe having the issue in the first place, right? And maybe you're thinking that you're alone in that as well.
Well, it's not the case my friends. You're not alone in this!
There's thousands upon thousands of foreign English speakers just like you experiencing the issue as we speak. Just because the English language is taught the wrong way in schools and universities and colleges all around the world basically. You are taught the proper grammar, textbook exercises. You are taught how to write, to listen, to understand but your speech is being neglected big time, right?
And that is pretty much the only reason why you find yourself getting stuck for words. All right?
And believe me, there's probably even millions of foreigners out there who are having the same exact issue. And many of them think that they're alone in that because people don't really voice their concerns out loud because it's probably something to be kind of ashamed of which is not really the case, right?
But people think that way. They perceive their drawbacks in whatever aspect of life we look at, they perceive those things as something almost like a shortcoming of them as people, as personalities, right? So they're really reluctant to share all that information with others. All right? And that makes them kind of feel isolated and that's the exact way I was feeling, maybe you're feeling that way.
So if you do, check out my blog, EnglishHarmony.com and to be more precise, go to the link EnglishHarmony.com/Start where I'm telling you exactly how you can start your journey to fluent English. And I'm also talking about the basic principles there which is stop translating from and to your native language.
Stop learning single individual vocabulary words but instead focus on collocations and do a lot of spoken English self-practice, right?
These are the three cornerstones of the English Harmony philosophy and they're also the three corner stones of a successful English fluency improving program that would suit anybody. I'm a 100% confident of that, my friends!
So if you enjoyed watching this video, if you have any questions related to English fluency improvement and the related issues, please feel free to comment in the comment section below my friends! Thanks for watching, chat to you soon, bye bye!
Robby
P.S. Would you like to find out why I'm highlighting some of the text in red? Read this article and you'll learn why it's so important to learn idiomatic expressions and how it will help you to improve your spoken English!
P.S.S. Are you serious about your spoken English improvement? Check out my English Harmony System HERE!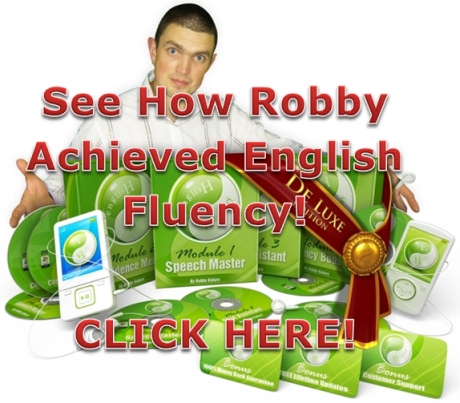 P.S. Are you serious about your spoken English improvement? Check out the English Harmony System HERE!