About the Author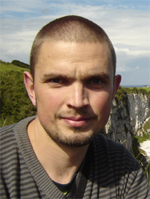 Robby Kukurs is Author of the English fluency improving system English Harmony. Robby launched EnglishHarmony.com back in 2007 and since then he's already helped hundreds of struggling English speakers to achieve the English fluency they've always dreamed of.
Robby has been studying English since the age of 10. Since his arrival in Ireland in 2002 Robby was trying all conventional methods of English learning in order to speak fluent English - and to no avail. Only after countless hours of English speech exercising the key to fluent spoken English became clear - learning most commonly used English word combinations the natural way - by speaking.
Robby has just finished working on the latest version of the English Harmony - a unique multimedia course for improving English fluency and helping non-native English speakers speak English free and easily.