If you are new here please read this first.
Podcast: Play in new window | Download

If you've been following my blog for some time, you'll know that I'm all against the traditional, mainstream English studies.
They focus mostly on writing, reading and learning grammar rules – needless to say, spoken English fluency gets neglected big time and so hundreds of thousands of English students keep struggling with their English without even realizing why it's happening.
That's why I started this website, and that's why I created the product – English Harmony System  – which is the only product out there that uses the spaced repetition approach and video technology in order to imprint natural English sentence structures into people's minds so that they can start speaking natural, more fluent English.
One day I got an e-mail from Francisco, however, in which he asks me to be a bit more ethical when talking about the issues mentioned above.
He thinks that:
Not ALL schools are bad and that there are plenty of good schools where English is taught in a way that facilitates English fluency;
Conversational fluency is fine, however, there's more than that – one may want to acquire an academic, deeper English knowledge and why would I claim it's all bad?
There are so many needs for foreigners – passing English tests and exams, business English etc., and surely my English Harmony System doesn't cater for those needs!
I'm taking advantage of those who are let down by the traditional English teaching system by shoving my product in their faces and taking their money;
I'm claiming my product to be the BEST one in the market but there are more products like mine out there; why am I not being honest?
Now, here's my take on the whole thing:
ALL mainstream education bodies are the same – languages are taught the same grammar-translation way to this very day!
Academic English knowledge? Sure enough, if one aspires to become an English teacher, for example, it's totally understandable there are certain requirements and a degree is one of them. You're not going to convince me, however, that you can become a more fluent English speaker just because you've gained a degree in English and you know your way around super-advanced English grammar. The same level of fluency – and even bigger! – can be achieved if you pursue a degree in YOUR PROFESSIONAL FIELD!
Tests, exams – it's all done in order to comply with standards issued by educational bodies. I strongly believe that if you pursue oral fluency, your writing, reading and comprehension is going to be developed to a fairly high degree as well (unless you purposefully ignore it, of course!), and while the EH System won't specifically help you prepare for an exam, the bigger problem is still going to be there for you if you don't improve your spoken fluency – you're going to pass the test, and another one, but you won't be able to speak fluently which is going to leave you frustrated and unhappy…
As for me taking advantage of those in distress – well, by the same token you can accuse a food supplier for taking advantage of people who want to buy food to feed themselves!
And lastly – is EH System really the BEST product out there? I strongly believe so because it's pretty much the only one known to me where you're required to MEMORIZE AND THEN USE natural English sentences in a dialogue. Other products will provide you with content which you're going to listen to, but there's no strict demands for you to actually SPEAK OUT LOUD which is the only way to develop one's ability to speak!
Now, this is my response to Francisco's e-mail, and you can also watch the video where I'm elaborating on certain aspects of this article.
Any comments welcome!
Robby
P.S. Would you like to find out why I'm highlighting some of the text in red? Read this article and you'll learn why it's so important to learn idiomatic expressions and how it will help you to improve your spoken English!
P.S.S. Are you serious about your spoken English improvement? Check out my English Harmony System HERE!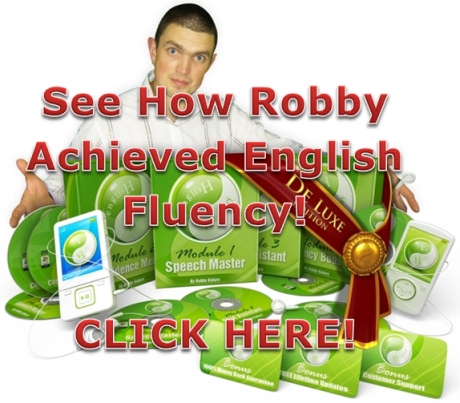 P.S. Are you serious about your spoken English improvement? Check out the English Harmony System HERE!