If you are new here please read this first.

Should foreign English speakers focus mostly on listening to all sorts of English audio lessons, songs and films in order to improve their English fluency?
This is somewhat a controversial topic because so many English teachers will tell you to engage in listening to specially prepared audios or just generally listening to English as much as you can in order to improve your fluency.
I'll tell you right upfront – it's a flawed approach, and here's why.
When you listen, you develop your comprehension skills.
Yes, those skills are important when it comes to communicating with English speaking people because it's necessary for you to understand what you're being told or asked… obviously! 🙂
Your overall fluency improvement, however, involves plenty of spoken English practice which basically means speaking ❗
You see, first of all we probably have to define the actual term "fluency" to make sure we're on the same page here.
The general term "fluency" entails all aspects of English fluency – writing, reading, speaking and also listening. The spoken aspect is the most important one, at least I believe so, but still the vast majority of English learning material will take care only of your writing and listening skills. And so it's traditionally accepted that an English student will read, write and listen, and as far as the academic curriculum is concerned, the language learning job is nicely done!
That's the reason why you can come across statements like "Listen to these audios and you'll improve your English fluency!" Actually you should ask that person a question – "Hold on, what fluency we're talking about here?"
On 99% of occasions we foreigners take everything at a face value and fall for the trap of easy fluency improvement promises before it's even explained to us that it's the comprehension fluency that is going to be developed the passive and relatively easy way – by listening!
When we discover a few months down the line that all that listening hasn't really helped us to speak more fluently, we get quite confused as to why it's actually happening. The sad part of the whole story is that it might take a person a few years to realize that in order to become fluent in terms of your communication skills you need to practice speaking a lot, not just listening!
Comprehension is necessary, but not at the cost of your spoken English skills, and here's a few quick tips on what to add to your English listening routine to facilitate your spoken fluency improvement.
When you listen, make sure to repeat what you hear to imprint those speech patterns into your mind! Remember – what you can comprehend doesn't necessarily translate into what you can say!
After listening to a story, or watching a film make sure you re-tell those events! Also make sure you use at least a few exact expressions and phrases from the story in your summary to add them to your active vocabulary!
❗ Read a related blog post: My Honest Opinion on Developing English Listening Skills  ❗
Robby
P.S. Would you like to find out why I'm highlighting some of the text in red? Read this article and you'll learn why it's so important to learn idiomatic expressions and how it will help you to improve your spoken English!
P.S.S. Are you serious about your spoken English improvement? Check out my English Harmony System HERE!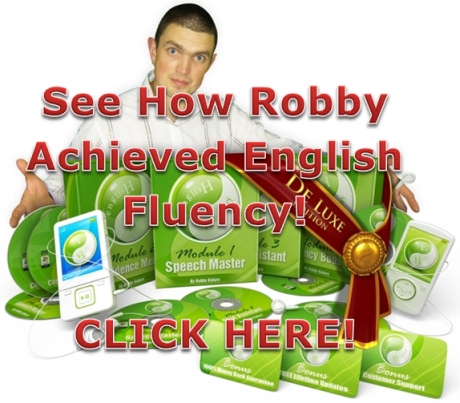 P.S. Are you serious about your spoken English improvement? Check out the English Harmony System HERE!