If you are new here please read this first.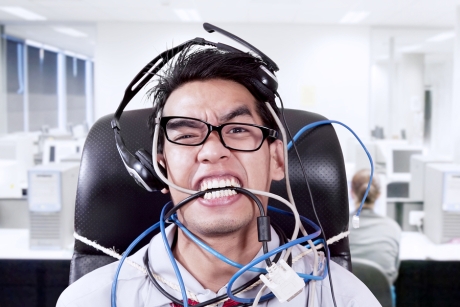 Let's first talk about this English fluency problem so that you can analyze it a little bit and understand its nature.
Let's say, you wake up in the morning and while doing something you just have an odd thought in English in your mind. And…you realize that you just can't express yourself in English language as you'd normally do!
You try to say something in English to yourself and you feel that you can't stick the thoughts together – your mind is full of different words and images floating and messing…
Another example. You go to work and greet the first person you meet. "How are you! I'm fine, what was the weekend like?" – And then you suddenly feel that you have to force yourself to get even these simple things right! And when you start chatting to your workmate at your desk, you feel that you can't speak normally as you could before, although only yesterday you could speak fluently as a native speaker!
The usual mistakes you make when experiencing the speech problem are the following:
 Not being able to find the right words
 Mispronouncing words
 Not being able to say the thought clearly!
You start a sentence, and then the very thread of the thought vanishes, and something like a blackout takes place in your head.
And then you get really anxious and nervous and it affects your whole day – your mood drops below zero, the self-esteem is gone, the confidence… well, it's a disaster! I don't exaggerate, I know the feeling all too well and I guess, so do you.
The most baffling thing in this all is that no matter how often you speak, no matter how long you've been living among English speaking folks, the things don't change! It keeps on repeating constantly and with no obvious reason at all! 😥
I remember myself being a job-seeker at one stage and I attended many job interviews. One day I could speak perfectly creating a really good impression about myself. The next day going to a different place I'd experience the issue described above – and, of course, I'd feel really low because the interviewer most likely thought – well, this guy can't get the English right in the first place, what job is he dreaming about then?
And I know you have gone through a number of really embarrassing situations similar to previously described and you'd be more than happy to deal with the issue once and for all, wouldn't you?
So first let's list all the characteristics of this English fluency issue so that we can clearly see what we are trying to get resolved here!
Robby
P.S. Are you ready to get on the fast track to spoken English fluency? Check out my English Harmony System HERE!
P.S. Are you serious about your spoken English improvement? Check out the English Harmony System HERE!