If you are new here please read this first.

One evening while on my way home from work I was listening to an evening chat show where some Irish-American was analyzing the aftermath of the last American presidential election and its effect on the Republican Party.
And here's the funny thing:
Even though I understood EVERY SINGLE WORD he was saying, I couldn't really figure out what exactly he's trying to say!
Every sentence he uttered was very vague; it was as if he was saying EVERYTHING AND NOTHING at the same time…
After his interview, I realized that he was basically trying to convey the following: the Republican Party are still slow to embrace the fast-changing ethnic composition of the American population, and in his view it was one of the decisive factors as to why Mitt Romney lost the presidential election to Barack Obama.
It took him 5 minutes or more to explain something so simple, and I can't think of a more fitting English idiom to describe what he was doing than the following: he was beating around the bush! 😀
He was using super-sophisticated industry lingo.
He was rephrasing a single concept many times over and he was repeating the same things all over and over again.
I was starting to feel lost while trying to make sense of the tangled mess that his speech was! 😡
Some time ago such an experience would have made me feel very bad as a foreign English speaker because I would have started doubting my own English skills:
"My English isn't good enough because I can't make out what he's saying…"
"He speaks so fluently and he's using all these means of expression so professionally… I'll never be able to speak like him!"
Such and similar thoughts would be crossing my mind, but now I know better than start beating myself over not being able to replicate such a seemingly eloquent speech.
In fact, now I wouldn't even want to be able to speak like that, because not only would I be confusing people who are listening to me but also myself!
I'd rather say a lot with fewer words than use a never-ending cascade of verbal content which is going to overwhelm my conversation partner or listener and make them acutely aware of their inability to match up to my train of thoughts.
How about you?
Are you often feeling inferior to some very eloquent English speaker?
Are you admiring their ability to use sophisticated language?
Is it making your English skills pale in comparison?
Then keep reading this article and you may just change your mind! 😉
Eloquence is NO Indicator of Superior Intelligence!
The purpose of this article is to show you, my foreign English speaking friends, that you should never consider yourself less intelligent just because some other native or foreign English speaker is capable of speaking just like reading from a book.
Did you know that Albert Einstein couldn't speak fluently until he reached his ninth birthday and he was terrible at English spelling his entire life? But you would never ever dare to describe the father of the relativity theory as not being intelligent!
Of course, there are people who are very intelligent and also are able to verbalize their thoughts by forming beautiful and perfect English sentences.
Ability to describe a simple concept over 10 minutes, however, isn't a pre-requisite for intelligence!
I remember listening to a radio interview with one the most notable British fantasy writers – Terry Pratchett. But you know what? He was anything but eloquent! He would stop quite often in a middle of a sentence to think of the right word to say, and he was also speaking using very simple vocabulary and easy-to-understand terms. Despite wielding a much larger vocabulary than your average English speaker, he spoke just like you or me if we were asked to do a radio interview!
It just goes to show, my friends, than you don't have to judge yourself for not being able to measure up to someone's eloquence ❗ After all, maybe it's just the way you are; maybe it's part of your personality to speak using somewhat plain language and not being able to elaborate extensively on a matter at hand.
Some Folks Just Aren't Born Speakers!
If you hear someone speaking in English in a way which makes you feel bad about your own fluency, you always have to remember that not everyone is an equally good speaker even in their native language!
I can immediately think of a few fellow Latvians who just aren't big speakers and they would speak relatively little even on social occasions.
Some people will only respond to questions using a single sentence and you'd have to constantly keep questioning them in order to gain all the information you want. But it's only normal because that's just the way those folks are!
So whenever you find yourself in a situation when you feel bad about your lack of skill to verbalize your thoughts by forming endless strings of perfectly arranged English words, terms and expressions, just take a moment and try to speak in the same manner in your own native language.
You may just realize that you can't speak as perfectly as you've imagined, and this is a very good tool to have at your disposal whenever your English confidence needs to be restored.
I personally employ this particular method when I feel my fluency dwindle; I simply try to say in my native language whatever it is that I'm trying to say in English. And guess what? More often than not, I find that I can't actually speak in Latvian with the imagined clarity of thought and I also have to take some time to verbalize the particular abstract concept or issue I'd been struggling to put into English words 😉
And by the way – did you not know that being reserved is actually considered a virtue by renowned writers and philosophers from the past?
Verbal Simplicity is Often Underrated
Here's a quote I just found online (here's the original source):
As men of sense and genius say much in few words, so on the other hand the weak and foolish speak much and say little.

Rochefoucauld
We can't, of course, use the blanket approach and tar all great speakers with the same brush, but there's a great wisdom hidden in the above quote, don't you think so?
Sometimes you can say just one sentence which so vividly depicts the actual situation you're trying to describe, that nothing else doesn't even need to be said ❗
Conversely, sometimes try as you might, you can't get your message across to your listener or conversation partner and all those words you're using seem to be accomplishing nothing.
I don't deny that it is a skill to speak for minutes on end touching upon countless aspects of the same matter at hand.
As I said in the beginning of this article however, it might be very confusing for a listener and they mightn't make sense of your story – especially if you're stuffing it with plenty of vague terms and descriptions. Maybe there's no need to elaborate on something that might have just as easily be described using a single sentence!
On the finishing note, I would ask you to watch this video:


This foreign English speaker has achieved a near-native level of English pronunciation and fluency, and I admire him for that. Seriously – he's setting standards for us, other foreigners, and I would be glad to achieve 80% of his fluency at some stage in my life.
What I have a problem, however, is the speech itself.
I listened to it for a while, and I just couldn't make much sense of it DESPITE UNDERSTANDING EVERY SINGLE WORD he's saying!
With all due respect, I think he was trying to say something simple with way too many words, comparisons and cliché phrases, and somewhere along the way I just got lost and couldn't follow it any more.
Please don't get me wrong, my friends – I'm not criticizing our fellow foreigner for his perfection!
All I'm saying is that I just couldn't follow his speech because it was TOO WELL WRITTEN; IT WAS TOO SOPHISTICATED.
Maybe I'm wrong.
Maybe you'll listen to the entire speech and you'll make perfect sense of it.
It's totally possible because there are as many different opinions as there are people.
I just hope that the main message I'm trying to get across to you today is going to hammer home:
You don't have to feel bad about your level of English by comparing yourself to speakers as eloquent as the man in the video above because sometimes eloquence is overrated and also not everyone is a born speaker!
Thanks for reading my blog,
Robby 😉
P.S. Would you like to find out why I'm highlighting some of the text in red? Read this article and you'll learn why it's so important to learn idiomatic expressions and how it will help you to improve your spoken English!
P.S.S. Are you serious about your spoken English improvement? Check out my English Harmony System HERE!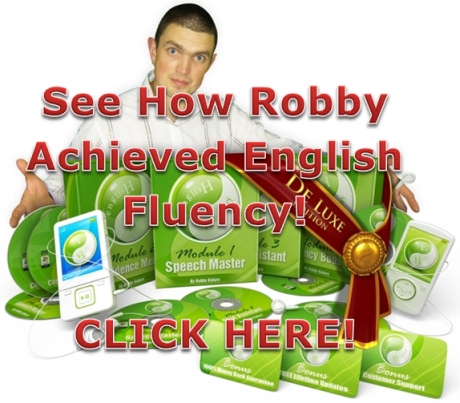 P.S. Are you serious about your spoken English improvement? Check out the English Harmony System HERE!