If you are new here please read this first.
Podcast: Play in new window | Download

VIDEO TRANSCRIPT BELOW:
Well, for some strange reason, I just can't write today. I don't know what's wrong with me. Then again, my oral fluency is up today for some strange reason, right? So, maybe I should record a video about it, and upload it onto my YouTube channel for my audience to see. Yep! I'd better do that!
Hi, guys. It's me, Robby, from EnglishHarmony.com!
I'd better turn off the music… And welcome back to my video blog! Today's subject is quite a funny thing that I've observed on numerous occasions. Basically, whenever my fluency, my overall fluency is up, my written fluency goes down. Basically, my ability to create written content diminishes for some strange reason.
So, basically, my observation is that my ability to write and to read is not the same. Whenever one of them goes up, the other one goes down and vice versa. Why it is, why it's happening, I haven't got a clue, right? It's just that it happens and I've observed this phenomenon occurring time and time again over the years.
As you may know, I've been running the blog, EnglishHarmony.com, for many years. Actually, it started in 2007. But, back in that year, I didn't actually publish any blog posts. Late that year, I registered the domain name, and set up the website and everything, and then I started creating some content in 2008.
So, it's been the whole year of 2008, '09, 2010, '11, '12, '13, and '14. This is the eighth year in business, right?
So, over the years, I've created hundreds of articles and a lot of other content, right? And this is what I've noticed – whenever I can write perfectly, as if I were a native English speaker, it's like the whole writing process just happens on its own, I noticed that my ability to speak is not so good. Right?
And, on the other hand, when I can speak freely with no effort whatsoever, I noticed that my writing process is a bit of a struggle. It's not as if I can't write at all, but it takes me that extra time and effort to create the same amount of written content.
And, excuse me for a second. This is my morning tea, right? I'm trying to wean myself off coffee because I'm consuming too much coffee, way too much. Now, in between coffee, I'm trying to drink tea, and this is herbal tea. It's not black tea, which also contains some caffeine, right? This is herbal tea with no additives, no sugar in it. I don't add sugar onto it, so it's very healthy. So, yeah, that's about it, my friends.
I want you to comment on it and to let me know and let others know whether you also observe this strange phenomenon happening with you!
Is This Strange Phenomenon Happening To You As Well?
So, basically, when you can speak very well, you can't write that well, and the other way around. When you can write very well, you notice yourself becoming a little bit weaker in the spoken department, so to speak.
And touching upon the subject of written English versus spoken English, I have to say that I've created a lot of blog posts about that in the past. You may want to check out this category on my blog where I'm touching upon the related matters and issues.
And I actually created another blog post, but I'm not sure if I published it. Let me see. I know for a fact I wrote it a few days ago. You see, the thing is I've been creating a lot of written content. I'm writing articles like mad on my blog just to catch up with whatever I've lost over the course of the last few months when I was not available for this kind of job. Headphones, it's about listening. No, I haven't published that article yet (UPDATE – here's the article!), but the truth of the matter is it's about to be published on the blog within the next few days or so, or maybe next week. I'm going to see. There's six articles, or five or six articles that are lined up for publishing now.
So, I have to play it by ear and then see which one is more fitting to be published next and so on and so forth. But, I'm going to publish that article as well where I'm – yeah. It's about my observations in terms of written English fluency versus spoken English fluency, right? And, in relation to that article, I just somehow thought of this phenomenon that, whenever I can write very well, I can't speak and the other way around.
So, let me know!
Has it ever happened to you or have you ever raised the issue with anyone and discussed it?
Maybe you have some theory as to why it's happening because I'm none the wiser after all these years about the issue, I'm none the wiser as to why it might be happening.
I know for a fact that, for starters, written English and spoken English are totally different things. Your ability to write doesn't translate into your ability to speak and vice versa.
So, they are two different disciplines of the English language, if you like. But, why changes in one affect the level of the other, it's not clear to me and I'm not really sure why it's happening. So, maybe if you could shed some light onto the issue, I would really appreciate it my friends!
Alright, so, I got to get back to my writing because, one way or another, the article has to be created. That's what I do. And this time around it's about how to give the perfect presentation in English. This is a topic that's been requested by many of my blog readers and I decided to write about it, right?
And this is what I do, my friends! I create content. I teach my customers using the same headset, the microphone down, and this is the way Fluency Star coaching lessons happen, right? I turn Skype on and I tell everyone, "Welcome back to Fluency Star. So, let's get straight down to the business and start doing our spoken English practice, right?"
And this is how I spend my days – article creation, video creation, teaching my clients. Yep. That's about it!
So, it's about time I turned the music back on because that's the way I write.
I have my headset on. I listen to music. Some trance – there's plenty of trance mixes on YouTube. I can't actually listen to any music where there's actual singing going on, where there's some actual audio content in terms of text because, for some reason, I just start listening to the words.
But, this is the perfect music for writing. Okay?
So, I'm going to be struggling a bit. But, hey, I just have to get on with the job, right?
Thanks for watching and take care, my friends! Bye, bye!
Robby
P.S. Would you like to find out why I'm highlighting some of the text in red? Read this article and you'll learn why it's so important to learn idiomatic expressions and how it will help you to improve your spoken English!
P.S.S. Are you serious about your spoken English improvement? Check out my English Harmony System HERE!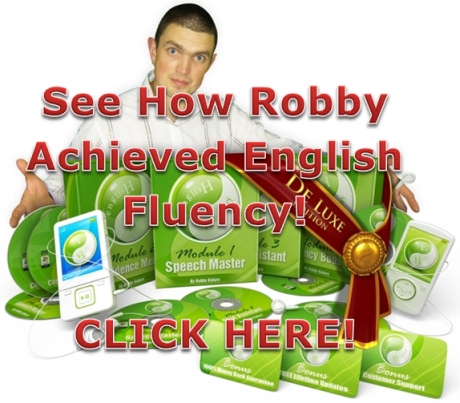 P.S. Are you serious about your spoken English improvement? Check out the English Harmony System HERE!