If you are new here please read this first.

Hello my friends from YearOfEnglish.com and also everyone else who happens to be reading this blog post right now!
It's been a while since I published the last Funny English Phrases video – it was dedicated to sports related idioms and it went live on June 1 which is 3 and a half months ago!!!
The only thing I can say in my defense is that I was extremely busy during the summer working on my new house, and if it's any good to you, here you can read a couple of English DIY terms I learned as a result of my home refurbishment related activities.
Anyhow, let's get down to business right now, and let's learn a couple of work related idioms you can use when communicating with your work colleagues regardless of the industry you're in.
Whether you're an office clerk, warehouse operative or a cashier sitting at the till in a supermarket, you'll find the following expressions quite handy at times, so here's what you have to do:
Watch the video above;
Listen carefully to the dialogues and REPEAT the phrases you hear;
REPEAT the highlighted idioms a good few times till you can recite them automatically;
USE those idioms in your own role-play conversations!
If spontaneous speech doesn't come easily to you – create new dialogues in writing and then enact them in real life!
TRANSCRIPT OF THE ABOVE VIDEO:
Idiom #1: I WENT THE EXTRA MILE.
Idiom #2: He's GETTING THE HANG OF IT.
Idiom #3: John TOOK IT ON HIS SHOULDERS.
Idiom #4: We're SINGING FROM THE SAME HYMN SHEET.
Idiom #5: He keeps STEPPING ON MY TOES.
DIALOGUE
Worker: Why did you get singled out for praise?
Co-worker: I went the extra distance!
Co-worker: I went the extra mile.
Worker: Yeah, true. I noticed you doing lots of overtime to get the project finished.
"Going the extra mile" simply means putting in more effort than you can get away with!
Worker: Jim's still struggling a little with his new task.
Co-worker: He's getting the hang of it.
Worker: I'm talking about Jim over there – he doesn't hang anything!
Co-worker: He's getting used to his job.
With this phrase, the co-worker means Jim is getting used to his job. Jim is not proficient but is doing an adequate job.
Worker: Who is responsible for organizing meetings around here?
Co-worker: John took it on his shoulders.
Worker: Is he OK? That sounds painful!
Co-worker: I'll contact John to see if he's available.
This phrase means to take responsibility. Another similar phrase is to say "John took the ball on that one".
Worker: Are we all agreed?
Co- worker: We're singing from the same hymn sheet.
Worker: We don't have time for choir practice!
Co-worker: I'm just letting you know we're agreed!
"Singing from the same hymn sheet" means all present and involved are of the same opinion, or agreed on a plan.
Worker: That guy is always sticking his nose in.
Co-worker: He keeps stepping on my feet.
Co-worker: He keeps treading on my toes.
Co-worker: He keeps stepping on my toes.
Worker: That's right, he's so annoying!
"Stepping on toes" means getting involved in someone else's business.
* * *
Remember my friends – make sure to USE those idioms in real life (even if it means doing a role-play with yourself) – simply because nothing works better in cementing such phrases into your vocabulary than SPOKEN ENGLISH PRACTICE ❗
Thanks for dropping by,
Robby 😉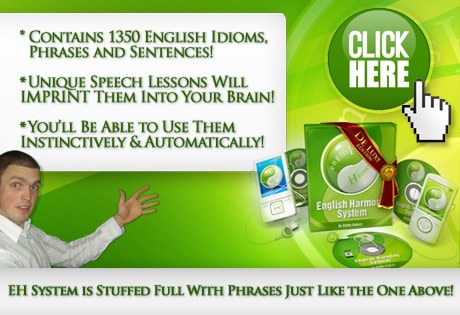 P.S. Are you serious about your spoken English improvement? Check out the English Harmony System HERE!