If you are new here please read this first.


❗ First off, I want you to watch a video where I'm putting all my accent and pronunciation related concerns and issues to bed. Apparently it's a very controversial topic among foreign English speakers because whenever I touch upon the subject, it sparks heated debates as to whether foreign English speakers have to try to master American or British English pronunciation by all means possible, or it's OK for them to speak with an accent and feel more comfortable about themselves.
My personal position on this issue is definitely not changing no matter what others say, and it's the following – there's nothing wrong with speaking with a thick foreign accent if it helps you speak English more fluently. You can also go to the respective blog post and read comments below the article to fully understand my position on this matter.
❗ Next up – an article I wrote in the beginning of March about English fluency issues in the context of anger management. This article is inspired by my own experience and as you might have already guessed, at some point in time I started to make a connection between my English fluency problems and incidents when I lost my temper and argued with people trying to prove my point.
If you have similar problems, you should definitely read this article and you're sure to find useful advice on managing situations when you can't seem to control yourself and as a result you lose the ability to speak in English properly.
❗ Another subject I've touched upon in the month of March is the nature of human mind in the context of English learning. To be more precise – it's about mental associations, past experience, contextual learning and the importance of it all when it comes to spoken English performance.
It may sound too scientific, but don't be put off by the first impression – give it a shot and read the following two articles:
4 Pieces of Evidence That Past Experience, Context and Mental Associations is Everything When it Comes to Spoken English
More Proof That Context and Associations Play Crucial Role When It Comes to Spoken English Performance
I wrote these two articles with one goal in mind – to raise awareness of the fact that speaking in English is about so much more than just acquiring information and then releasing it at the proper moments. It doesn't work like that for the simple reason that our brain isn't based on a database principle where you can access any record of information at your will.
If that were the case, all foreigners would speak fluent English without any problems, but in reality our spoken language ability is determined by how well we've associated certain English words with others and how certain situations trigger the right responses when we speak.
❗ Another article you'd probably find worth reading is my response to a question I've been asked many times – "Is it possible to become a fluent English speaker when living in a foreign country?" I'm not going to give you any clues right now as to what my conclusion on this question is, so you'd better read it – especially if you're one of those foreigners living in a foreign country and thinking if it's worth improving your spoken English when there aren't many opportunities to meet other English speakers.
❗ And now let me ask YOU a question – have you heard of the concept of repetition in terms of English improvement? If you've been following my blog for a while, most likely you've encountered it a few times – especially when I describe that the English Harmony System 2.0 is based on the spaced repetition principle. To dispel any doubts you may still be having in relation to this approach in English improving, please read this article and you'll see that repetition happens all the time in real life conversations!
❗ But if you are often having doubts over your English communication ability, here's the article you just have to read. The three effective communication rules mentioned there are quite simple and straightforward – but then it's often the case that the simplest things in life are the most effective ones! Basically what I'm saying in that article is that on many occasions we foreigners don't really know what we want to say and we mistakenly assume that it's our lack of English fluency that prevents us from communicating effectively.
In reality, a little bit of preparation goes a long way, but you always have the alternative to admit that you don't have an opinion on that matter instead of forcing yourself to say something just for the sake of saying it!
❗ On the finishing note, here's an article where you can read how to perform very simple research on Google in order to find out how certain things are said in English. It's very simple and very effective – read it and implement that method whenever you're in doubt over your word choice when you say certain phrases and expressions in English!
I really hope you'll enjoy reading my articles! Remember – even if you implement one piece of advice from it all, it will still make some difference to your English fluency! 😉
Robby
P.S. Would you like to find out why I'm highlighting some of the text in red? Read this article and you'll learn why it's so important to learn idiomatic expressions and how it will help you to improve your spoken English!
P.S.S. Are you serious about your spoken English improvement? Check out my English Harmony System HERE!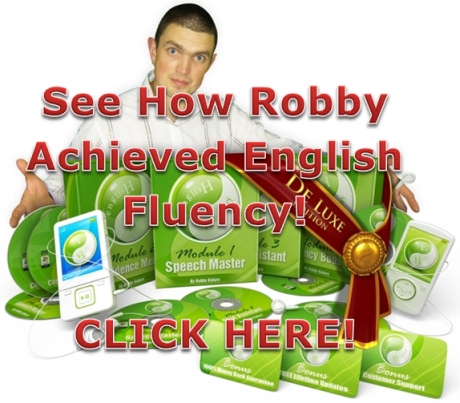 P.S. Are you serious about your spoken English improvement? Check out the English Harmony System HERE!