If you are new here please read this first.

The first article I want you to check out is called Popular Misconceptions About Foreign English Speakers. In this blog post I'm looking at a few stereotypical assumptions in relation to foreign English speakers that are so popular that they've turned into criteria foreigners are very often judged by. If you're curious about it, or if you often feel wrongly judged as a bad English speaker just because you have a strong accent for example, definitely check out this article and it might just put your mind at ease!
Remember – you'll do yourself a favor if you just ignore any negative emotions being directed your way. Speaking of which, I recommend you to read this blog post I published a short while ago called What You Can Learn from My Countryman's Adventures in Britain's Got Talent. It's a very inspiring story about a Latvian guy Gatis living in Britain and pursuing his dream of becoming a stand-up comedian. There's a big lesson to be learnt from this story which is – "Enjoy your life through the English language and do what you love to do, and all of a sudden everything is going to be possible!" 😉
Do you want to become a stand-up comedian like Gatis? Give it a shot! Want to start your own business while living abroad? Why not! Read this article called My Experience in a Polish Beauty Salon & What Foreign English Speakers Can Learn From It! and you'll realize that you don't have to speak English at a near-native level to be able to communicate with people effectively! The most important ingredient of a success formula as a foreign English speaker is confidence, and if you possess that trait of character, living in an English speaking society becomes so much more easier, believe me!
Next up is a blog post where I'm touching upon the subject of spoken English self-practice once more and it's called Speaking With Yourself Isn't As Different From Speaking With Others As You Might Have Thought! You should definitely read it if you've been toying with the idea of speaking English with yourself for a while, but you still can't pluck up the courage and start doing it because you feel it's something strange and would make you look incredibly stupid if someone else caught you doing it. Also, if you believe spoken English self-practice is a waste of time because in real-life English conversations everything happens differently, read this article and you may just change your mind! Not that I want to influence your opinion by all means possible, it's just that I know for a fact that your English fluency is going to experience a rapid improvement if you start engaging into regular self-practice sessions!
It may go against the conventional wisdom of the English language learning, but then again – a lot of things we've been taking at face value are actually wrong, and the English learning and improving area is no different. Let's take for example, an approach many English teaching professionals will advocate for – listening to English audios as the most effective way of learning the language. I warmly suggest you read the following article I published in May – My Honest Opinion on Developing English Listening Skills. Read it, and you'll realize that the conventional approach is often wrong!
The last blog post I encourage you to read is called 3 Killer Tips on How to Write in English Like a Native Speaker! While the main focus of my English Harmony blog and my YouTube channel is development of spoken English and fluency, as you can imagine I spend an awful lot of time creating written content in English. While I'm far from being a perfect writer, I have a few tips and tricks up my sleeve which I share with my audience in this blog post, and believe me – creating a piece of good quality English writing which reads as if written by a native English speaker is actually easier that you might think!
Robby
P.S. Would you like to find out why I'm highlighting some of the text in red? Read this article and you'll learn why it's so important to learn idiomatic expressions and how it will help you to improve your spoken English!
P.S.S. Are you serious about your spoken English improvement? Check out my English Harmony System HERE!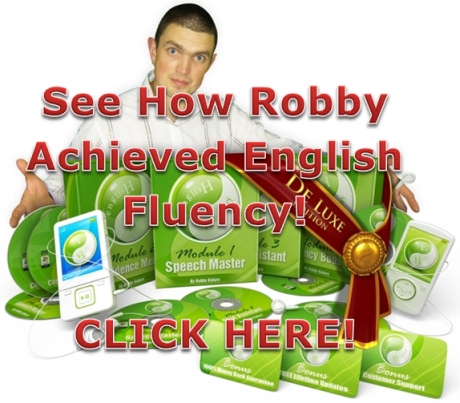 P.S. Are you serious about your spoken English improvement? Check out the English Harmony System HERE!