If you are new here please read this first.

Current Goal: Learn 50 American Phrases in 25 Days!
Hello my friends!
I'm nearing the end of my 50 American Phrase Acquisition Mission, and it's been one hell of a ride ❗
I've been recording videos day in, day out.
I've been getting up at 5:40 AM so that I can record my morning video and publish it on Easy Idioms blog before I have to leave home for work.
It's been hard work, but at the same time I've also been improving my fluency and pronunciation (the evening videos got published on Accent Adventure blog where I'm working on my American pronunciation) and I don't regret a single second of this mission!
Today's video, however, is different in that it's created around the same concepts used in the English Harmony System, namely – spaced repetition and contextual speech pattern acquisition.
Basically you can watch the video above and see me being engaged in English speech exercising in order to acquire the last 12 American English phrases/collocations/expressions:
…, WHAT WITH ME BEING … AND ALL
BY VIRTUE OF…
RACK UP
HIGH AND MIGHTY
RICKETY SHELF
BLOWING OFF WORK
BULLETS WERE SPRAYED
FIRM INSTRUCTIONS
PHONY BRAVADO
FOR GOOD MEASURE
YOU'RE ON DANGEROUS GROUND HERE
BLOW YOUR COVER
They're all taken from the GONE series dystopian fiction which I've been using as source for my American phrases (GONE series books have been written by an American author Michael Grant and there's a lot of real-life spoken American language in it!), and what I'm doing during this mission is quite straightforward – I'm adding them onto my active vocabulary so that I can use them in real life conversations and self-practice sessions!
Thanks for reading/watching,
Robby
P.S. Would you like to find out why I'm highlighting some of the text in red? Read this article and you'll learn why it's so important to learn idiomatic expressions and how it will help you to improve your spoken English!
P.S.S. Are you serious about your spoken English improvement? Check out my English Harmony System HERE!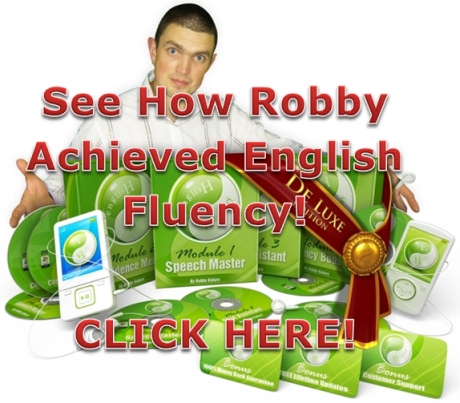 P.S. Are you serious about your spoken English improvement? Check out the English Harmony System HERE!