If you are new here please read this first.
Podcast: Play in new window | Download
Here's how to improve your English listening skills when listening to my video: put the headphones on, playback the video and write it all down while listening to it!

Video Transcript Below:
Hi guys, hello my dear fellow foreign English speakers!
It's Robby here from EnglishHarmony.com and welcome back to my video blog.
Here's the thing my friends – I've been struggling with my English fluency for the last couple of days and what I wanted to tell you is despite the fact that is happens I don't regret it.
I don't really wish to have been a completely fluent English speaker at all times. And guess why?
It's quite simple.
If I didn't have these fluency issues I wouldn't have created the blog EnglishHarmony.com in the first place, right?
So I wouldn't be able to help you guys! I wouldn't be in a position to create all these blog articles and videos and whatnot and helping thousands and millions probably of other foreign English speakers worldwide. So basically if not for my fluency issues, none of this would have happened!
My Own Fluency Issues is What Motivates Me!
And here's the deal. When I don't experience any fluency issues for a number of days, say for a week or two, I kind of stop being motivated to create content for my blog. Because everything is fine and dandy, there's no issues in terms of my English fluency so there's not much I can say about it, right?
And eventually I run out of ideas to write articles about and make videos about. And as soon as I start having some fluency issues again, that's when I have a lot to say. Because when I'm trying to come up with different strategies and methods to overcome my fluency issues, that's when I can actually share them with you and help you guys to overcome your own fluency issues, right?
So in a weird, twisted way I don't really – on the one hand I don't wish that I was fluency issue-free. But obviously on the other hand it would be nice not to have any fluency issues like at all. Because that would actually save me some of the – some of my nerves basically because whether you want it or not but you do get stressed out a little bit at least every time you experience those fluency issues.
And despite the fact that I'm advising you guys not to take it personally, don't let it get under your skin, just accept it and rest assured in the knowledge that your fluency is going to get back to normal at some stage in the near future, despite all that it's easier said than done.
Yes, These Fluency Issues Is a Real Pain in the A**, However…
And sometimes it really gets you down and I won't deny that it's happening to me as well. You know, I'm only human. Despite the fact that I'm trying to embrace everything that I preach, I'm still human and I'm not successful at all times, you know? I'm probably successful 7 or 8 times out of 10 but as for the other 1 or 2 times out of 10 – I am suffering a bit.
So from that perspective, yes, I would have wanted to be a complete – completely fluent at all times. But that's what it is, it is what it is basically. And I'm still experiencing these fluency issues and that's what makes me human. And that's what drives me to create more content for you guys to enjoy. And yeah, that's about it!
There's one more thing I wanted to mention. There's this article I created a couple of years ago called "7 reasons why having been born a foreigner is one of the best things that ever happened to you". And in this article – you may want to click on the link right here and it's going to take you to my blog, to the respective article, right?
In this article I'm looking at all the reasons why you shouldn't actually regret having been born a foreigner, right? Because sometimes just like me, I'm pretty sure that you probably have also wished "What if I could have been a native English speaker? Then I wouldn't be having all these issues, right?"
So read this article in case you're having a down moment right now and it's guaranteed to set you back on the right track and lift your spirits. Okay?
So thanks for watching this video my friends. If you have any comments or questions, please feel free to publish them in the comment section below. And chat to you soon!
Bye-bye!
Robby
P.S. Would you like to find out why I'm highlighting some of the text in red? Read this article and you'll learn why it's so important to learn idiomatic expressions and how it will help you to improve your spoken English!
P.S.S. Are you serious about your spoken English improvement? Check out my English Harmony System HERE!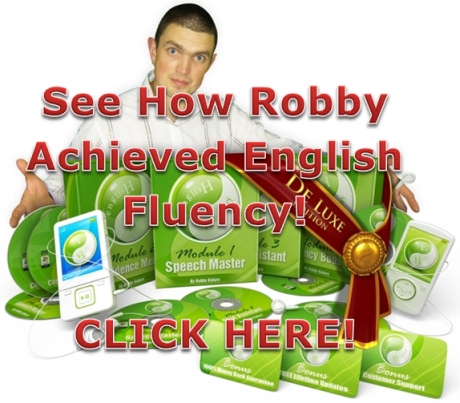 P.S. Are you serious about your spoken English improvement? Check out the English Harmony System HERE!