If you are new here please read this first.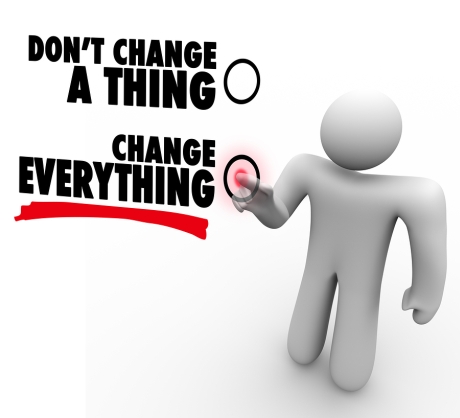 I'm sick of repeating that the English Harmony blog is all about improving your SPOKEN English and your ability to SPEAK, so by now at least those of you following my blog on a regular basis would have realized you're not going to find any grammar exercises or downloadable worksheets on my website.
As a result, the number of e-mails about grammar related questions is dwindling which is an overall positive development, and I'm only happy to see it!
Yet a surprising number of people ask me all sorts of questions which clearly show their unwillingness take ANY action in order to improve their spoken English and overall fluency!
Here's the impression I'm getting:
The school's over – English grammar is not in the spot-light anymore.
The teacher's gone – you're not doing grammar textbooks.
The kids are free to do whatever they want – you've just realized that the English language isn't only about doing tests sitting in a classroom.
Just like kids you choose to do NOTHING – browsing the Web and asking questions on how to speak better or why you can't speak better instead of actually doing SOMETHING ❗
The simple fact is that I can't really help you unless you help yourself, ain't that right, my friend?
Going Against Mainstream Ideas Doesn't Mean Doing Nothing!
Just because you've realized working hard on your grammar theory and building massive vocabulary alone won't make you fluent, doesn't mean you can just sit back, revel in your realization, and your English is going to come along just because you've changed your perception.
Nothing could be further from the truth, my friend!
You still have to do A LOT OF HARD WORK in order to improve your English:
speak a lot with others and yourself;
learn, repeat and memorize plenty of new phraseology and vocabulary on a REGULAR basis;
engage in your hobbies through English;
do ANYTHING you possibly can through the English language!
Just because you don't have to spend a lot of time cramming grammar rules into your brain and memorizing vocabulary lists with the respective translations in your language, doesn't mean you don't have to REPLACE those activities with something that's more effective and more relevant to your end goal which is English fluency.
Lack of English grammar and traditional vocabulary studies leaves vacuum that has to be filled with all sorts of activities (just like the ones I've mentioned above)!
There's no Excuse for not Doing Any Research & not Taking Any Action!
I hate to be this harsh, but I think I'd better say what I think instead of beating around the bush.
The problem is that a lot of those people coming to my website asking questions such as:
"Robby, I've been reading your blog for some time now and it feels like you're reading my mind. Can you tell me please what I have to do in order to deal with all those problems you're clearly describing?"
…haven't bothered doing some real research on my blog. It's simply impossible NOT to find the exact advice on what one has to do in order to deal with English fluency issues!
I say it in almost every single blog post of mine – the key to fluency is spoken practice whereby you learn a lot of naturally occurring speech patterns. ONE HAS TO OPEN THE MOUTH AND SPEAK. That's all.
I don't deny there's a whole lot more to it, but the essence of one's English fluency development routine is really that simple.
And it's not that I would have written just one article about it.
I've countless videos about it, hundreds of blog posts, free eBooks and what not.
Read what I have to say. Watch what I'm saying to you. TRY TO DO WHAT I'M SUGGESTING YOU DO.
If it doesn't work, or you've some questions about it – I'll be more than happy to help you out!
But I can't help being a bit annoyed when receiving an e-mail from someone who's JUST downloaded my free eBook "Truth about traditional English studies" where EVERYTHING is actually explained:
why traditional English studies don't really contribute to your oral Fluency;
why English collocations are the basic units of the English language;
why you have to stop translating from your native language;
why spoken English practice is CRUCIAL in your fluency development…
… and that e-mail says – "Robby, can you please help me to improve my English?"…
Arghhhhh!
If you don't bother reading anything from the free eBook where everything is explained, then what do you expect from me to tell you? Some magic formula that will simply transform your brain into that of a native English speaker within a matter of minutes?
Stop Feeling Helpless & Take Some ACTION!
The teacher's gone home, and there's no-one to tell you what to do. Well, there's me – but even I can't take you by the hand and help you on every step of the way!
Feels kind of helpless, doesn't it?
Well, guess what? You've got to motivate yourself! 😀
You have to create a routine around your English improving efforts, you've got to do it regularly, and then ask me questions regarding specific things that don't work out or you're not sure of!
Or even feel free to be critical of my approach and tell me why you think my methods don't really work for you. I'm open to any exchange of opinion as far as it's done in a civilized and polite manner!
But please understand I'm not in a position to help you if you're not doing something to help yourself in the first place.
And if you think it's easy for me to say all this because I've already achieved a decent level of English, please bear in mind that I was struggling with my English for YEARS, but I NEVER stopped taking action.
Sure enough, I did all the wrong things – grammar, vocabulary via my native language and all that sort of stuff – but I never stopped doing something, my need to achieve English fluency kept driving me on the whole time.
Now, if you're the one who's been always procrastinating, maybe it's time to take some real action towards your English fluency improvement?
How about doing some spoken self-practice? DO IT RIGHT NOW – then post a comment here on this blog post and tell me how it went, at the very least we're going to have some discussion going on about something SPECIFIC, something you can adjust, something you can fix, something you can improve upon!
Robby
P.S. Would you like to find out why I'm highlighting some of the text in red? Read this article and you'll learn why it's so important to learn idiomatic expressions and how it will help you to improve your spoken English!
P.S.S. Are you serious about your spoken English improvement? Check out my English Harmony System HERE!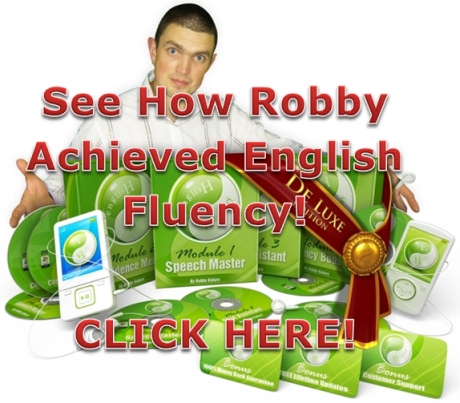 P.S. Are you serious about your spoken English improvement? Check out the English Harmony System HERE!