If you are new here please read this first.

You know what I think was one of the crucial factors determining my personal English fluency development?
BEING SUCKER AT IT for a long time.
How come?
Well, it's fairly simple and straightforward:
I struggled with my English fluency and it made me really DRIVEN to succeed;
I worked the HARDER to achieve my goal of fluent English;
As a result, I ACCELERATED my spoken English improvement and made real gains in the ability to communicate in English properly ❗
So all the while I was being really unhappy about my limited ability to speak without interruptions and hesitations, in reality all that struggling made me into a FASTER and more EFFICIENT English learner.
If I had the power to change the past and learn English the proper way without too much focus on writing and reading, would I do it?
Yes, without a shadow of a doubt!
Do I regret my past with all its fluency issue related trials and tribulations?
NO! 😀
As I already said, I believe that all this struggling with my fluency provided me with even MORE motivation and hunger to achieve a complete spoken English fluency one day!
And here's what's in it for you, my fellow foreign English speakers.
If you think you suck at speaking in English, do THIS TEST and you may just find out your English isn't as bad as you think it is.
IF your oral English fluency is quite bad indeed, however, don't be beating yourself over it!
Just TAKE ACTION and find comfort in the fact that the more you work with yourself, the more your English is going to develop.
Just whining about it won't help, so you may as well engage in a heavy spoken English improving routine and let your frustration provide fuel for your motivation to keep improving your English day in, day out!
To your fluency improvement success,
Robby
P.S. Would you like to find out why I'm highlighting some of the text in red? Read this article and you'll learn why it's so important to learn idiomatic expressions and how it will help you to improve your spoken English!
P.S.S. Are you serious about your spoken English improvement? Check out my English Harmony System HERE!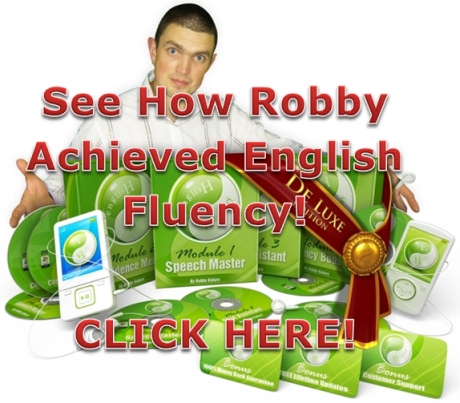 P.S. Are you serious about your spoken English improvement? Check out the English Harmony System HERE!