If you are new here please read this first.


Blog post I want you to check out first of all is the announcement of the digital download version of the English Harmony System 2.0 going live, and it's really good news for those who've always wanted an immediate access to the product after the purchase is made.
The only difference between the download version and the physical product is that you need an Internet connection to use the download version of the English Harmony System, so if you want to play safe and use the System on your laptop when you're not connected to the Internet, you might as well pay those extra few bucks and get the DVD package delivered to your doorstep worldwide for free. And – you'll still get the download, so it's a win-win no matter how you look at it!
Now let's look at one particular strategy of English fluency maintenance that definitely warrants your attention. It's an article is about using reverse psychology in order to deal with English fluency issues. It's definitely worth your time and if you only have a few minutes, it's the only February blog post I want you to read!
It's controversial, it's crazy, and your first impression might be that by implementing the reverse psychology strategy you might only make your matters worse! Well, you are totally right IF you don't experience those terrible fluency issues when you get tongue-tied and unable to say anything reasonable. Those who've tried all my fluency management strategies and still encounter situations when it's very difficult to maintain fluency at a normal level, this reverse psychology approach might just do the trick!
Next thing I want to tell you today is about my Twitter account and what I've started using it for. Up until recently I tweeted only my blog posts and major announcements so frankly speaking there wasn't much happening on my Twitter page. Then, one fine day, I just thought – "why not use my Twitter account to publish all those idiomatic expressions I've been highlighting in my blog posts for the last year or so?"
And so I started doing it, and you can read this blog post to find out how to get the most out of my tweets!
Actually the basic premise that this whole idiomatic expression and collocation thing is based upon is very simple:
You don't need to learn massive vocabulary and intricate grammar rules; you can speak fluently by just sticking word chunks together and that's how any native English speaker actually forms their speech ❗
Speaking of word chunks, I definitely suggest you to read one of my recent blog posts How Words Hook Up With Each Other in Spoken English where I'm explaining the concept of English words forming combinations with each other. This article elaborates on the same concept of word chunks, and I'm sure you just can't get it wrong after reading this blog post or watching the corresponding video on YouTube. To get the most out of this video, you should most definitely participate in the little experiment I'm conducting there, and I believe that you just can't fail to understand how important it is to learn and improve English contextually after watching this video.
Another February blog post you may want to read is called Is it OK to Pretend to Understand What an English Speaker Says When You Don't? and I'm sharing some funny experiences in it. As you can guess from the headline alone, in this article I'm looking at those situations when we foreign English speakers pretend to understand what we're told while we actually don't. As you know for yourself, it doesn't necessarily mean our English is bad, there can be other reasons for that such as your conversation partner speaking too fast or with too distinct accent. How to go about such situations, when it is and when it's not OK to pretend to understand – you can read all that and much more in this article.
On the finishing note, I'd like you to read a blog post I published in mid-February dedicated to speaking English with a hard native accent. This time I'm looking at one of the most famous Spanish actors Antonio Banderas and if you're wandering why I chose him, then here's the answer: he's a fluent foreign English speaker, yet he speaks with a distinct Hispanic accent.
With this blog post I'm sending a message to all those perfectionists out there who still think that perfect American or British pronunciation is a requirement for English fluency!
If you're constantly beating yourself up over your native accent and you're going out of your way just to pronounce words in English as perfectly as you possibly can, what you don't realize is that you might be actually compromising on your fluency. It's happened to me before, and now I just don't care if there are people who think that my English isn't fluent just because of my accent.
I know better than to allow such criticism to get me down, and I warmly suggest you to adopt the same attitude!
That's all for the February English Harmony Blog highlights, thanks for tuning in and you can stay in touch with me by subscribing to my YouTube channel or by signing up for my mailing list on the top left hand side of my blog!
Robby
P.S. Would you like to find out why I'm highlighting some of the text in red? Read this article and you'll learn why it's so important to learn idiomatic expressions and how it will help you to improve your spoken English!
P.S.S. Are you serious about your spoken English improvement? Check out my English Harmony System HERE!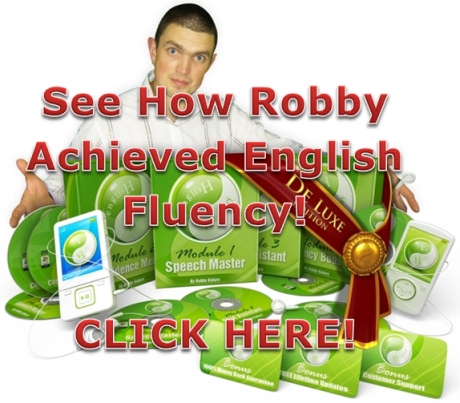 P.S. Are you serious about your spoken English improvement? Check out the English Harmony System HERE!