If you are new here please read this first.

This month has been prolific in terms of publishing and attracting more and more visitors and commentators to my website, and every day I have to spend more and more time engaging with my blog readers. And I have to tell you it's very rewarding to see that your opinion matters to so many foreigners and native English speakers alike!
The first article I want you to look at is called "How to Develop the Gut Feeling for Correct and Natural English". You may have had the feeling when you just know that something sounds right when said in English, and you don't even have to explain why, you just know it. I call it the "gut feeling", and if you want to find out more about it and how to develop it, make sure you read this article!
Next up is an article dedicated to learning American slang phrases by watching TV and in this particular article I'm focusing on the Desperate Housewives series, but it can be any TV show for that matter. Whatever floats your boat, as they say!
If you're struggling a bit with your English Grammar when speaking, you should definitely read this article called "The ONLY 3 English Grammar Rules You Need to Know to Speak Fluent English". My approach to English Grammar is the following – once you know the basics, you don't have to constantly analyze your speech with surgical precision and apply grammar rules as you go along. All you need to know is a few rules to get your speech right in simple daily conversations, so definitely make sure you read this article!
By the way, speaking of English Grammar, did you download the free eBook called "Practical English Grammar" that I published a short while ago? If you didn't, please submit your request on this blog post and get your copy. You'll find really useful stuff in the eBook, and many of those practical grammar aspects haven't been actually looked at by anyone else, as far as I'm aware!
Let's move on to the next blog post, and it's an interview with an American Slang and Pronunciation teacher Anthony Krese! If you're interested in some quick and dirty tips on how to sound like an American, this article is a must-read for you!
That's all for this month in terms of blog posts, but I did publish a number of videos on YouTube and let's run through them quickly.
Here's one more Funny English Phrases video about money related matters. I'm portraying two different characters in this video so if you want to see how good I am at acting, check it out!


Here's a video about how I started speaking fluent English pretending to be a gangster. This is quite funny too, and you'll find it especially interesting if you're a fan of mafia films.


And here's the last video of those I put up on my blog this month – it's my rant about a particular blog post I read on another person's blog where she's bashing foreign English speaking bloggers. It sparked some really interesting commentary, and you may wanna check it out!


So, that's all for this month's highlights, I hope you'll enjoy reading my blog posts and watching my videos, and if you've anything to say or ask, just use the comment section below!
Robby
P.S. Would you like to find out why I'm highlighting some of the text in red? Read this article and you'll learn why it's so important to learn idiomatic expressions and how it will help you to improve your spoken English!
P.S.S. Are you serious about your spoken English improvement? Check out my English Harmony System HERE!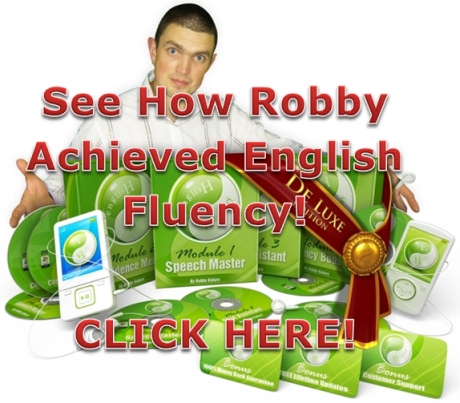 P.S. Are you serious about your spoken English improvement? Check out the English Harmony System HERE!