If you are new here please read this first.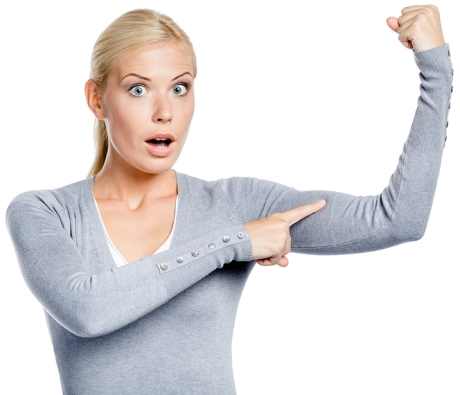 How many years have you been working on your English? Two? Five? Ten?
Guess what – I've been receiving e-mails from folks having been trying to achieve English fluency for TWENTY YEARS to no avail ❗

And I can see exactly why it's happening – the heck, years ago I was among those struggling English speakers myself! – it's because most foreign English speakers don't perceive their mouth as a muscle.
Are you confused?
What I mean by saying – perceive their mouth as a muscle?
Well, it's EXACTLY what I mean – your mouth for you as a foreign English speaker is just like muscles for a bodybuilder or just about any other athlete or indeed for any person on this planet who's using their body to move their arms and legs to lift things and move around.
You're using your mouth to produce English words, phrases and sentences in order to communicate with other English speakers, and there's actual body movement involved in every step of the way – your lips, tongue, jaws and a whole array of facial muscles are actively involved to help you with the task!
Biggest Misconception: English Language is a Purely Mental Discipline
Just because English language learning in a traditional setting involves a lot reading, writing and paper-based evaluation, we tend to believe that learning and using a language is something completely different from physical performance.
For my money 99 people out of 100 would say that Physical Education has nothing in common with English, and I'm afraid that even that one person having a different opinion would do so just for the sake of being in the opposition…
And I can't blame them for having such an opinion for the simple reason that in academic environment the spoken aspect of English is indeed being neglected and it's no wonder people can't see why English and physical performance would have anything in common.
If you rephrase the question and ask the same folks what giving a 3 hour long speech on a stage and running a 10K distance have in common, I'm pretty sure you'll get different results.
It's quite OBVIOUS that both speaking on a stage and running are physically exhausting, so now we've come one step closer to the true concept of English fluency which involves your body to a much greater extent than people may think.
Ever Heard of Muscle Memory In Terms of Sports?
Surely you've heard about the concept of muscle memory and how it helps people in all walks of life perform highly demanding physical activities.
Let's say for instance, when an NBA player runs across the field dribbling the basketball, he doesn't even think about the dribbling process. It happens 100% automatically thanks to muscle memory – his arms literally have a mind of their own while the basketball player himself has all his attention paid to passing the ball to one of his team-mates.
The heck, muscle memory is so efficient that NBA players are actually capable of shooting a three-pointer with their eyes bound! I remember watching a TV program about sports performance during which it was explained that muscle memory takes care of adjusting the basketball player's stance and arm position so that the ball travels in a perfect trajectory to hit the basket; basically it's become a reflex rather than action that has to be given a conscious thought every time it takes place.
Your Mouth Also Has Muscle Memory In Terms of Spoken English!
English phrases and sentences get hard-wired into your brain AND mouth, and you don't even have to think about what you're going to say before your mouth does all the talking – have you ever experienced the feeling?
Chances are, you've experienced what it feels like at least at some stage of your life; no matter how much you're generally struggling with your English fluency you surely must have moments when your fluency hits a peak and you can speak as if you were an English speaker born!
If you believe it's all down to what happens in your brain, you may think twice because your mouth's muscle memory in terms of ability to produce automatic English speech can't be ignored. Yes, there's A LOT going on in your brain, and your fluency may get indeed severely affected by your attitude. You might be comparing your speech with others, you're probably trying to speak too fast or you're just being too conscious of what you're saying.
One way or the other, you have to start regarding your mouth as a body part which has a memory on its own, and if you adopt such an attitude, you'll have no difficulties with embracing the following concepts:
You have to memorize English phrases and sentences by speaking them out loud many times over so that you wire them into your mouth – just like you'd dribble a basketball till it becomes your second nature!
If you're really serious about your ORAL FLUENCY, you need to get your mouth involved in every English learning related activity (loud reading, doing role-plays with yourself following listening practice etc.) because your mouth is going to retain a lot of that English content at a purely motoric level!
You have to work out your mouth hard – just like any other muscle, it needs to be exercised in order to grow and develop. In real terms it means speaking in English as much and as often as you possibly can…
…which brings us to the last point:
If You Don't Use It – You'll Lose It!
This well-known fitness related adage also applies when it comes to spoken English performance and your ability to speak fluently.
Basically it boils down to this:
If you use your mouth as a foreign English speaker regularly, your spoken English fluency will improve.
If you don't use it – your ability to speak fluently will quite naturally deteriorate over time.
It's not much different from people's declining ability to perform certain physical tasks if they stay inactive for a long period of time; and you also have to bear in mind that it's not enough to keep your fluency sharp by doing a lot of passive English immersion.
You can't keep your oral fluency going by listening and reading – no more than you could stay fit just by reading ABOUT sport and fitness.
YOU HAVE TO WORK OUT YOUR MOUTH because it's like any other muscle in your body – full stop!
Thanks for reading,
Robby 😉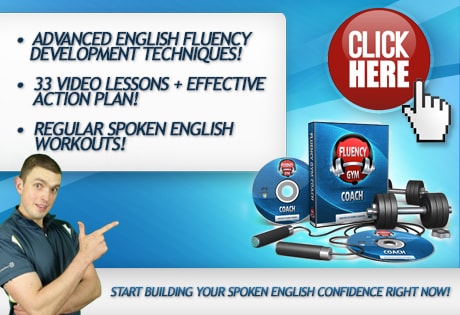 P.S. Are you serious about your spoken English improvement? Check out the English Harmony System HERE!