If you are new here please read this first.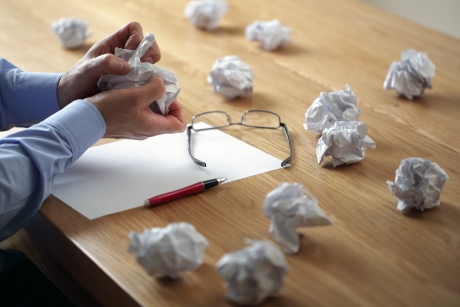 I've been going on about the importance of doing spoken English practice for years on this blog, and here are the 3 main benefits of doing it regularly:
You develop your ability to speak spontaneously and fluently
You prepare yourself for conversations with real people in real life
You deal with your anxiety and fear of speaking in English
But what if you find it hard to get your creative juices flowing when trying to verbalize your thoughts?
What if you don't engage in spoken English self-practice for the simple reason that you don't even know where to begin to produce a monologue on a specific topic?
Well, there's an easy solution to this problem – you have to kick-start your spoken English self-practice routine by going down the easiest road possible, namely – reading a certain piece of writing out loud, and then repeating it without looking into the text.
You simply have to WRITE IT ALL DOWN first, and then speak it all out loud!
Well, the best case scenario, of course, is to completely separate writing from speaking in your mind; after all, the typical English fluency issues originate in English studies that are centered around writing and reading and so your mind has adopted this funny "writing mode" whereby you try to speak as if you're creating English sentences on paper (as a result you hesitate and get stuck for words when you have to speak in real life.)
But if you have to choose between not speaking at all and reading off a sheet of paper (or computer screen), then it's a no-brainer – you have to do whatever it takes to develop your ability to SPEAK in English ❗
Step #1: Pick a Topic
Just think of something you'd like to talk about in English – anything at all.
Needless to say, it has to be something you're interested in or something important. Here are some possible topics:
Last night's football game
Company Xmas party
Global warming
Your complicated relationships
What you're thinking about at this particular moment
What you love/hate about your job and what you'd like to change in it
Your future plans
ANYTHING at all worth writing and speaking about!
Step #2: Write a Piece on It
Now just take a plain paper sheet or open a text editor in your tablet or laptop and start writing a piece about the topic of your choice.
Now, please bear in mind that you don't have to go by the highest academic standards when writing – just write it all down the way you'd normally write and don't be particularly concerned about any mistakes you might make. If you try being a perfectionist, you probably won't do anything so it's definitely worth just giving it a shot, writing the whole thing down to the best of your ability and move onto the stage where you're going to start exercising your mouth.
IMPORTANT!
You can actually speak out loud while you write in order to strengthen the mind-mouth connection!
But if you need some advice on English writing, please follow guidelines from this article I posted a while ago.
Step #3: Read the Piece Out Loud a Number of Times
Now that you've written the 200 – 300 word long story (writing anything more than that would be too much for your brain and mouth to handle in a single practice session!), read it OUT LOUD a good few times.
SUPER TIP!
Every next time you read it out, try not to look into the written piece all the time but gradually look away and allow your mind and mouth to do the talking for you!
Basically your goal is to wire those English sentences into your mind so that you can deliver them without much thinking – just like native English speakers would.
Well, I'm not saying you have to learn the entire 250 long piece off by heart; surely when speaking without looking at the text you'll say some things differently and that's totally fine (it's actually what you want – improvisation when speaking in English!)
All you have to focus upon is getting your speech going by repeating what you wrote down and getting the main storyline right.
Step #4: Deliver a Monologue About the Topic
Now that you've been reading off the sheet or computer screen for some time, it's about time you tried talking about it without referring to the actual text.
It should be relatively easy to do – remember what I told you about not trying to get it 100% correct! Simply speak it all out loud and forget about the existence of the written piece!
A number of things should happen.
First of all, your mouth is going to be able to deliver certain parts of the text just the way you wrote them down (these are the parts you'll be able to use in your speech going forward!) and without even realizing it you'll apply the use of English collocations (word groups – just like the ones I'm highlighting in this article!) in your speech.
Secondly, you're going to overcome the mental block that prevents you from speaking out loud without any advance planning and over time you'll be able to do away with such written preparation for your spoken English practice.
Thirdly – you'll become a more confident English speaker and you'll be able to enjoy real life English conversations to a greater degree because you'll have exercised your mouth well enough. Remember – your mouth is your muscle!
You Can Also Use Other Types of Text!
Is the very thought of writing something down giving you the creeps, but you're still eager to practice your spoken English?
Don't despair! 😉
You can use any text you want in order to improve your spoken English!
News articles
Wikipedia articles
Books
Anything!
Basically any English text that you read out loud a good few times is going to provide you with some solid English speech patterns that will stick in your brain, and the results of such practice over a longer period of time will quite literally speak for themselves.
Other useful articles:
Thanks for reading,
Robby
P.S. Would you like to find out why I'm highlighting some of the text in red? Read this article and you'll learn why it's so important to learn idiomatic expressions and how it will help you to improve your spoken English!
P.S.S. Are you serious about your spoken English improvement? Check out my English Harmony System HERE!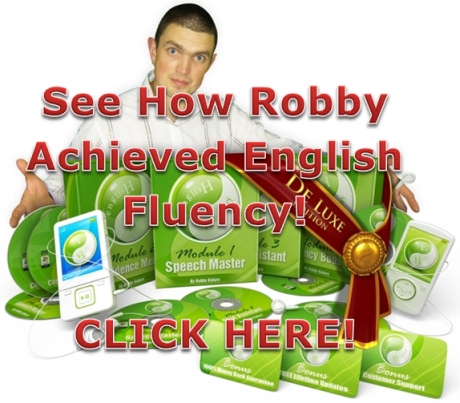 P.S. Are you serious about your spoken English improvement? Check out the English Harmony System HERE!