If you are new here please read this first.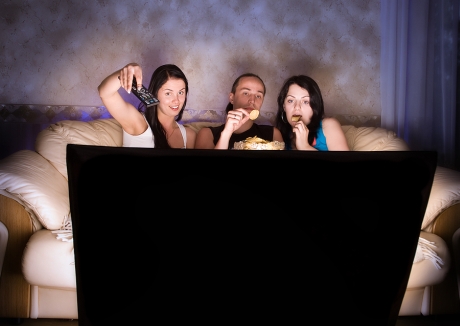 Watching TV alone won't help you to speak fluent English.
Yet if you spend most of your time wrapped up in your native language bubble watching TV in your language, you'll deprive yourself of so much needed passive exposure to the English language which will help you to integrate into the society!
To be honest with you, I don't understand my fellow Latvians and other foreigners living in Ireland who only watch films dubbed in their native languages and opt for different online based solutions to enjoy TV channels from their home countries.
You can accuse me of not being a patriot of my nation, but I think it's plain silly to move to an English speaking country without making any conscious effort of fitting into the local society.
Watching TV makes up a big part of our daily lives these days, and if you watch English TV shows and programs and enjoy latest movies in English, over years you'll absorb an awful lot of new English vocabulary and expressions which will allow you to understand English spoken around you.
You'll also be able to:
discuss popular TV programs with your English speaking friends and work colleagues;
improve  your spoken English by using new phraseology in your daily conversations;
develop a sense of belonging among the locals.
You don't have to deny your national background.
It's something no-one will ever take away from you, and personally I spend loads of time with my family, friends and relatives speaking in Latvian and I keep up-to-date with the latest developments in my home country by checking news online etc.
Once you've made the decision to move to an English speaking country, however, I think it's only common sense that you keep an open mind, make some effort to fit into the local society, and use the English language as means of achieving it!
Living in Your Language Bubble Is So Easy…
Given the modern solutions of watching online TV and also watching the latest Hollywood movies dubbed in other languages it's hardly surprising that some foreigners speak and understand very little English even after years spent in English speaking countries.
I know a good few Latvian families here in Ireland who spend most of their free time watching Latvian TV channels online, and they wouldn't even have a clue as to what's going on in the X-Factor or the latest episode of Desperate Housewives.
Also if I try to discuss the latest Irish news with them, there's very little they know because they simply live in their own native language bubble…
All right, I understand that it's none of my business of how other people choose to organize their own lives.
But then don't be complaining about how difficult it is to learn the English language ❗ Don't be finding excuses why you can't find work because of your lack of spoken English skills, and don't fantasize about taking evening English classes for five years straight while never actually taking any action!
If you want to improve your English listening skills, PUT SOME EFFORT INTO IT.
It's easy to go with the flow and opt for the easy options. Not that it would make you a bad person or anything, but it won't develop you either!
… But It's Very Rewarding to Enjoy Being a Part of an English Speaking Society!
I had a conversation with a Polish girl the other day during a lunch-break, and I had a cheap celeb gossip magazine in front of me.
I was flicking through the pages while having a small-talk with her, and then I came across an article about the X-Factor. I asked her if she watched it, to what she replied that she only watches Polish TV channels…
Well, if she had a Sky TV, we'd be having an interesting conversation about the X-Factor, but instead she started telling me that she watches the X-Factor's Polish version, to which I couldn't relate because I'm watching the British one.
I understand that people are free to make their choices as to what TV channels they're watching, but they also have to understand that at the same time they're also making their choice not to integrate into the English speaking society.
The choice might not even be a conscious one, but here's how it happens:
You have very little to talk about with locals;
You keep sticking with your own fellow country people;
You might even develop some sort of a dislike towards the local culture and way of life because you're not trying to embrace it!
As a result, you spend the rest of your life complaining to everyone how badly you miss your home and that next year you'll definitely be going back (and it keeps happening every year because you refuse to accept the fact that you live here and you might never be going back!)
Watching TV programs and movies in English ISN'T GOING TO MAKE ALL THE DIFFERENCE, but it will do the following:
It will develop your passive vocabulary and comprehension;
You'll have more to discuss with other English speakers;
You will pick up on many details which are lost on you when you watch a movie dubbed in your language, for instance!
Robby
P.S. Would you like to find out why I'm highlighting some of the text in red? Read this article and you'll learn why it's so important to learn idiomatic expressions and how it will help you to improve your spoken English!
P.S.S. Are you serious about your spoken English improvement? Check out my English Harmony System HERE!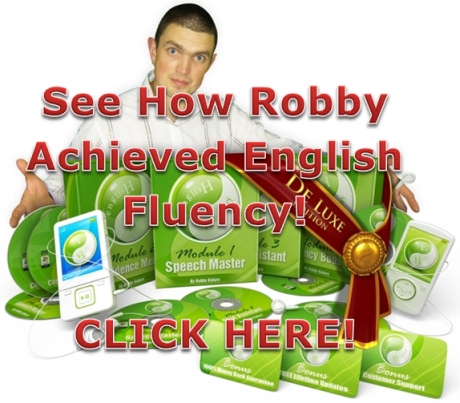 P.S. Are you serious about your spoken English improvement? Check out the English Harmony System HERE!