If you are new here please read this first.
If you've any experience with taking English classes and trying to improve your spoken English, you must have realized that by rewriting English sentences in your copybook you won't become fluent.
And it's totally correct because in order to improve your spoken English you simply need to practice your vocal cords and speak! So the sad conclusion you can draw is that in traditional English classes students are basically beating around the bush.
But now I'm going to reveal the secret information about a super-effective English class that will increase your English fluency super-fast. I've been attending that class for more than two years now and I'm really excited about efficiency of the fluency improving methods provided in it!
OK, I won't keep you waiting for any longer. The name of the English class that I'm attending is – MY WORK!
Is excitement leaving you like air leaves a punctured balloon? "How can Robby be so mean and lure me into watching this video because I'm hoping to find a good English class that would finally teach me how to speak?" Is that what you're thinking?
All right, I'll be brutally honest with you. I had no intension of fooling you into watching this video under a false pretense. And I can tell you with all honesty that my work has indeed been the best English class ever! Within the last two years I've picked up more conversational English than in the previous years spent in Ireland together during which I had also attended advanced English classes.
Work vs English Classes
You see, the difference is that at work I don't have to do my assignments in writing and bring them in the next day. At work I don't have to listen to my boss giving me sample English sentences and write them down in my copybook. At work I don't have to be in this artificially created atmosphere resembling school days when your mind was constantly drifting away to other things and you'd find yourself forcing to focus on what's being discussed at the moment rather than immersing yourself fully in an English environment.
Now, listen to what DOES happen in my English class a.k.a. my working place.
My work colleague William provides the best spoken English practice ever ❗
Over the years we've discussed every topic possible and since both of us share similar opinions we don't run out of topics to discuss. News we hear on the radio and events in each other's lives spark new conversations on a daily basis, and I doubt any traditional English class would provide you with that much spoken English practice! All right, you're probably thinking that all I'm doing at work is yapping all day long and that soon I'll probably be fired.
Not at all! That's what break times are meant for, and besides, you can have brief conversations while you're engaged in manual handling and similar activities with someone, and it provides me with enough time to discuss things I want.
Also, there's constant communication going on at work between me, William, and others working with us, and of course, that makes up the biggest part of the day. I think I don't even have to convince you about the enormous effect constant English speech has on one's fluency. English simply replaces your native language in your head, you start thinking in English and that's when real fluency begins!
How I Build Vocabulary At Work
Vocabulary building process is also more effective than if you were sitting in an English class, writing new vocabulary words in your copybook and listening to the teacher in front of the class explain yet another grammar rule.
At my work I experience full English immersion, and new vocabulary is being added to my active vocabulary every day. What's more important, though, is that it happens contextually, and every new word that I hear or read is being seen as part of a speech or text. Of course, I do have to make some effort to memorize new words and learn how to use them in conversations, but it's much easier in the work environment because you're fully engaged and you need all that new vocabulary.
Just think about this. If I sit in a traditional English class and the teacher gives me new vocabulary about some topic I don't take a particular interest in or I don't see its immediate relevance for me personally, I won't absorb that vocabulary anywhere near as effectively as I would in a real English environment ❗
At work I'm fully present in a real life English environment and even if I may not be personally interested is something, the very nature of work demands all of my attention which facilitates acquisition of new stuff. Let's give you a very simple example.
When I started in my company, I heard about clearing order backlog when we replenished stock levels. It took me just a few times to hear the collocation – "to clear backlog" to figure out what it means because I was facing an actual situation where there were many customers still waiting on certain products and I had to make sure that all those orders are completed and backlog is cleared. So as you can understand, such contextual and real situation English improving is much more effective than writing stuff in your copybook that has little real-life significance for you!
My wife, for example, has improved her English big time thanks to her current job. She took some English classes previously and also studied English Grammar at home but it provided little help for her. Now, after a couple of years spent in an English speaking working environment, she's come along brilliantly and it's all thanks to her speech practice with others at work and picking up English naturally as opposed to doing something to what many of us have a subliminal aversion – learning English Grammar!
Let's Wrap This Up!
To wrap today's video episode up, I'll tell you one thing – if you have a choice between taking English classes and engaging yourself more in your working environment, go for the second option.
I've known a few foreigners who have had all opportunities to improve their English at work, yet they would keep saying things like "I want to improve my English, I think I'll join an English class in near future." There's only one thing I'd tell such folks – "Why don't you take advantage of a free English class right here, in your working place? Be more enthusiastic about your working environment and you'll definitely see improvement to your spoken English!"
By the way, do you know what I noticed when I just started in my position as a dispatch clerk? The previous guy in my position had made plenty of notes in his native language on procedure descriptions. So he'd rather use his language to operate in an English speaking environment than learn new vocabulary and improve his English! I think it's a big disservice to yourself if you're given a great opportunity to improve your English but you blow it just because you're too lazy to learn.
All right, I understand that not everyone is as passionate about improving English as me. Anyway, once you happen to read this article, I take it you're interested, right? So if you work in an English speaking environment, use all opportunities you can to practice your spoken English and add more to your general English knowledge! Sometimes you may run the risk being perceived as the most annoying member of staff, but by and large people are friendly and like being spoken to!
Robby
P.S. Are you ready to get on the fast track to spoken English fluency? Check out my English Harmony System HERE!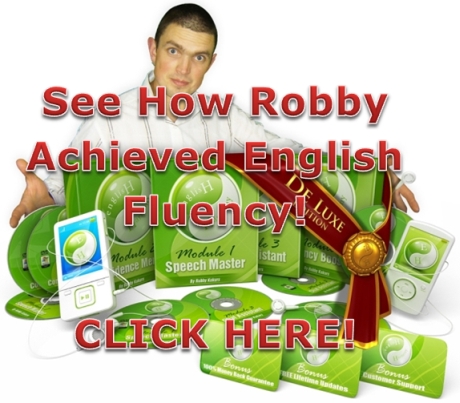 End