If you are new here please read this first.
Podcast: Play in new window | Download

VIDEO TRANSCRIPT BELOW:
Hi guys, and welcome back to Robby's English Harmony video blog!
In today's video, I'm going to touch upon a subject that I've actually spoken about before, and it's the fact that you don't have to try to impress other people with your English.
Typically what happens is, when you're having a conversation with someone, deep down inside you're trying to show off your English skills. You're trying to show that person that your English is up to scratch, which is another idiomatic expression for you, which means up to standards, right, basically, good enough. And more often than not, it backfires on you, which means you end up being in a worse situation than in the beginning, in a worse situation than you're starting with.
How I Was Trying to Impress a Kitchen Fitter Guy With My English
And here's what happened to me a week ago or so. A kitchen fitter – a kitchen fitter is a person who fits kitchen furniture into the kitchen obviously.
And, recently, we had some renovation happening in the house, so we got rid of the old kitchen furniture which had been there for I would imagine 30-odd years, ever since the house was built.
So, we bought a new kitchen, and the kitchen fitter came over to my house to do the work, and he stayed here for the whole day. And we got talking and we had small breaks during which we had some coffee and all. And, then, I started telling what I'm doing with my life, and what I do for a living, and that I have this blog, English Harmony, and that I teach foreign English speakers how to speak in English fluently.
And, as the time went by, I kind of felt that my English actually got worse because he was asking me random stuff. And we got talking about our dogs because you see I have a dog and he has a dog, and he was sharing stories about his dog, and I was telling him how misbehaved my dog is, and that we can't keep him inside, and he has to be kept in an enclosure in the back garden.
And then, over time, I started struggling with my English a little bit. And being the English fluency expert that I am, I immediately realized what I was doing. I was trying to live up to his expectation!
I'm not saying that the expectation was actually there, but what I'm trying to say is that the moment I let him know what I do for a living, that I'm an English fluency expert, then from that moment and on, there was this perceived expectation on his part, but it was all a projection of my mind.
It wasn't real.
I just thought that, once he knows I'm an English fluency expert, I thought that once he knows that, I have to speak just perfectly.
But, as I've said on multiple occasions previously, the moment you're trying to speak perfectly, quite the opposite happens and you start hesitating. You get stuck for words and all that kind of thing starts happening.
When You Catch Yourself Trying to Impress Someone and Your English Worsens, Resort to These Techniques!
And, obviously, I resorted to specific fluency management techniques, and you can read more about them here in this article.
And I basically slowed my speech down, which is a very important aspect of it all. It's actually one of the biggest mistakes foreign English speakers do. They speak too fast. So, that's the first thing. I slowed speech down and, when I was speaking, I was trying to pronounce words clearly and that saved the day basically.
I got the fluency back on track and everything was fine. But, I'm just telling you guys this story just to show you that, at any stage, no matter at what English fluency level you're at, you have to be conscious of what goes on in your head, and you don't have to kind of meet the expectation of other people, whether those people really expect you to speak at a certain level or it's maybe just you who believes that those people think that way.
But, in reality, they just don't care about it. Most likely, that kitchen fitter guy didn't even care about the way I spoke and he might have actually totally missed those few hesitant moments that I had. And it's actually a phenomenon. It's a known phenomenon. I have spoken about it before in my blog, and here's the relevant article where you can read about the fact that foreigners don't always – well, not foreigners – native speakers don't always spot mistakes made by foreign English speakers as they speak because the whole verbal message is perceived as a whole, and if there's small imperfections, they tend to disappear.
There's No Need to Worry Because Native Speakers Won't Always Spot Your Mistakes!
So, what I'm saying is, whether that perceived expectation is real or not, you don't have to try to speak perfectly just because you think that the other person expects you to perform at a certain level.
Obviously, it's not that easy. It's easier said than done because there are various situations when you kind of feel pressured into performing at a certain level.
For example, if there's a company meeting or something, and you are attending the meeting, and then you are asked to contribute with something, and the moment you open your mouth, you kind of feel all those eyes on you and you feel that everyone is expecting you to say something.
So, that expectation, just because someone is waiting on you to say something, it weighs greatly on your mind and you start stressing out. And, here, you can read what happens when we stress out, and why our English actually deteriorates, and how you can counteract that.
So, just like I said, the first thing is to slow your speech down, pronounce words clearly. And, if that doesn't work actually, there's a reverse psychology kind of technique that I've written about previously in this article up here and it might work on certain occasions when normal fluency management techniques don't really work for some strange reason.
So, as you can clearly see, guys, I've written about everything on my blog in the past because, believe it or not, I've been in the business since 2007. So, that's eight years in the business.
And, as you can imagine, publishing blog posts on a weekly basis, two, three times a week, there's not a lot that I would have left out at this stage. I've covered pretty much every aspect of the fluency issues that there is.
But, still, I'm coming up with new subjects and topics every week. And to tell you the truth, I have a list of them in my notepad and the list is growing. So, I'm not going to run out of issues to discuss for a good while. Believe me, guys, alright?
You Have to Learn to Ignore Other People's Expectations!
So, to conclude this video, let me repeat it once more. If you find yourself in a situation when you kind of start the conversation with speaking more or less fluently, and then you feel that you start speaking worse and worse and your fluency just worsens over time, the first thing to do is slow your speech down and try to think for a second.
Are you really trying to impress the other person?
Are you trying to live up to their kind of expectations of what kind of an English speaker you should be?
And it shouldn't be taking you longer than a couple of seconds really. At the moment you realize that, you have to tell yourself: "Listen. I'm not going to go down that road because, if I do and if I try to speak perfectly, the fluency is just going to get even worse and I won't be able to say anything."
So, don't mind your mistakes – just – yeah. Don't mind mistakes because the worst thing you can do is try to say something perfectly with perfect grammar, which makes you analyze your speech, and that's when the whole thing stops.
You can just get stopped dead in your tracks and you won't be able to say another word because the information overload is just going to make your brain freeze.
So, basically, ignore mistakes, slow your speech down, try to pronounce words clearly, and kind of don't try to think about what the other person thinks or they expect from you as an English speaker.
Just try to think about the actual matter at hand, the matter you are discussing, what you actually want to say. Put it in very simple words!
There's Nothing Wrong With Speaking Using Very Simple Language!
So many things are coming together in this video because there's another article about using very short sentences and simple speech, and that's how it happens.
That's how English fluency is achieved.
And, obviously, there's constant spoken English practice necessary in order to achieve all that. And here's an article I published actually this week – was it this week? I'm not so sure. But, anyway, this is a new set of guidelines for those who want to find out how to do the spoken English practice. And, here, you can find all the things you can do on my blog in order to practice your spoken English. Alright?
So, with that, I'm concluding this video, guys, and I hope you have a few take-home – I constantly get confused with these terms — take home, takeaway lessons – home, take, take home – it's one of those things I'm struggling a little bit myself.
But, I'm pretty sure it's a few takeaway lessons. Let me look it up. The old friend, Google, is going to come to rescue now. And, obviously, this is how it happens. You use quotation marks, always quotation marks, right? "Takeaway lesson" and perform the Google search.
Takeaway lesson – yeah. People also say takeaway – there's 17,700 results returned by Google. And – yeah – takeaway lesson – yeah.
So, I hope you're going to have a few takeaway lessons from this video you can manage when you're doing your spoken English practice or when you're speaking with other people. And – yeah.
If you have any questions, any comments, publish them in the comment section below, and talk to you soon, guys. Bye-bye!
Robby
P.S. Would you like to find out why I'm highlighting some of the text in red? Read this article and you'll learn why it's so important to learn idiomatic expressions and how it will help you to improve your spoken English!
P.S.S. Are you serious about your spoken English improvement? Check out my English Harmony System HERE!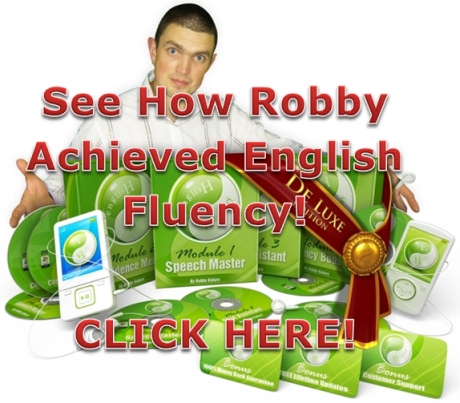 P.S. Are you serious about your spoken English improvement? Check out the English Harmony System HERE!