If you are new here please read this first.

Happy New Year, my dear blog readers ❗
The year is coming to its end, and now it's the proper time to look back at this year's articles. I don't want to brag about it, but I have to tell you that I have a great sense of accomplishment – after all, I've posted over 80 articles on this blog this year and it's something not to be sniffed at! I've been writing for this website day in, day out and even if I haven't delivered at 100% on all of them, I've been trying to do my best to make my blog's content as interesting and useful for you as possible!
Here's the first article you should definitely read – How to Think in English. If you're anything serious about improving your English fluency, this is actually the number one thing you should do – master the art of thinking in English instead of thinking in your native language and then translating all that content into English. So if you recognize yourself from my description, definitely read this article!
Another thing that will make a big difference in terms of your English fluency is getting to know English collocations. If you're a frequent reader of my blog, you definitely know how important collocations are and that they play a huge role in spoken English. But in case you need a reminder or you're brand new to this, here's the article I want you to read – How To Make Your English Sound Right? Use Collocations!
And don't be dismayed at the specific term "collocation", it only sounds very smart. In fact, collocation is just a one word description for "words that go together", and it can be easily described by the feeling you get when you hear native English speakers and you think – "But how am I supposed to know that you have to say it using these exact words, are there any grammar rules determining which words go together when speaking about certain things?"
Well, that's the thing, my fellow foreigners, there are no rules! You just have to mimic native English speakers so that you literally imprint those natural word patterns into your mind – phrasal verbs, expressions, specific and industry terms and idioms.
Speaking of the latter, I've written a blog post about English idiomatic expressions and it's definitely worth reading, here it is – Why I'm Highlighting Bits of Text in RED in My Blog Posts. Having read this blog post you'll understand exactly what collocations and idioms are and why they're important, and you'll also realize that they form a big part of all spoken English – if you haven't come to that conclusion by now.
By the way – did you know that you can gain a lot of valuable information in terms of English phrases and idiomatic expressions using Google? I, for instance, use it all the time when I'm writing articles because I don't remember all idiomatic expressions precisely, and at times I only have a vague feeling as to what the particular English expression might have sounded like. So, here's the article called Useful Tips on Improving Your English Using Google and I bet you'll find plenty of tips and tricks on how to use the biggest online search engine when you're not sure how to say a certain thing in English.
Anyway, there are many more ways you can naturally pick up the different collocations, idioms and expressions.
You can aim to communicate with other English speakers as much as possible and pick up those expressions in the process.
You can also make a point to learn them on a regular basis by jotting down and memorizing collocations relevant to your interests, hobbies, profession and lifestyle in general. After all, we all have different lives and there's no need for you to memorize abstract lists of English collocations if you'll only ever use 25% of them in real life conversations!
And this brings us to the next article I want you to read and it's called 80/20 Rule – You Have To Be Selective About What You Learn! Maybe you've heard of the 80/20 rule previously, but I don't think you've heard it in the context of English fluency improvement, so I guess you'll find some very useful advice based on which you'll be able to adjust your English improving routine and become much more efficient. Basically it's achieved by narrowing your focus on the essential English vocabulary and grammar aspects and thus exponentially increasing your English fluency improvement rate.
By the way, speaking of different English learning methods – did you know that it is possible to learn new English vocabulary the wrong way? Essentially you'll know the words, but you won't be able to use them as part of fluent speech because of wrong mental associations created in the learning process! I think it goes without saying that it's very important to be aware of what English learning techniques to avoid so that you don't unwillingly create English fluency issues for yourself, so here's the article called Unnatural Collocations and Wrong Mental Associations and I'll say it once more – it's very important you avoid certain methods which might be common English learning practice yet they might seriously impede your English fluency, and that's something you definitely don't want, isn't that right?
And now – useful information for those of you struggling with English fluency, and I'm afraid there's quite a big chance that it's you otherwise you probably wouldn't be watching this video, right?
So, here's an article about English Fluency Monitoring and Management. It may sound too scientific at first with all the fancy graphs and all, but believe me – I'm always trying to put things simply for my blog readers and once you start reading it, everything will make perfect sense.
Another article I want you to read focuses on dealing with situations when you head seems to be stuffed with so many different English words and phrases that you find it very difficult to create normal, meaningful sentences and engage even in simple conversations. It's the so-called information overload, and in this article I'm giving advice on how to deal with such situations when you feel so overwhelmed that you just can't deliver a normal English speech without stuttering, hesitation and getting tongue-tied.
And finally, for moments when you feel completely down and it seems that you'll always suck at spoken English – here's an article that should get you back on the right track. It will help you realize any other related negative emotions that might be at play, and you'll be asked to do some self-analysis. Having read the article, as I said, you should regain your confidence as a foreign English speaker, and it's actually a very, very important factor to bear in mind that you actually are capable of much more than you imagine and that on way too many occasions it's just your inner inhibitions preventing you from speaking fluent English.
So that's what the year 2011 was all about here at English Harmony – collocations and idiomatic expressions, fluency management and monitoring, thinking in English and speaking in English!
I wish you a very Happy New Year, and may all your dreams and wishes come true ❗
Robby
P.S. Would you like to find out why I'm highlighting some of the text in red? Read this article and you'll learn why it's so important to learn idiomatic expressions and how it will help you to improve your spoken English!
P.S.S. Are you serious about your spoken English improvement? Check out my English Harmony System HERE!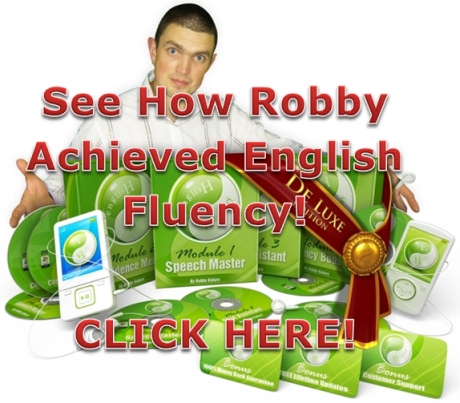 P.S. Are you serious about your spoken English improvement? Check out the English Harmony System HERE!