If you are new here please read this first.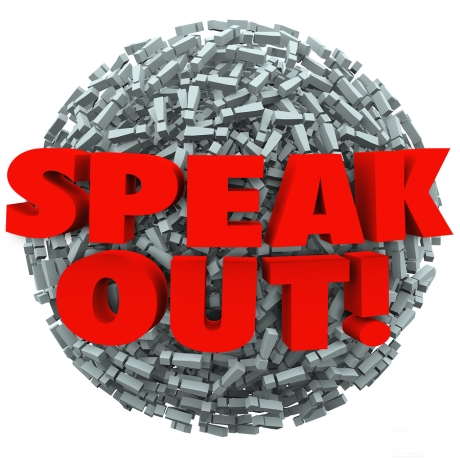 If you're a foreign English speaker and you don't get a lot of opportunities to speak in English with real people in real life, it's quite understandable you're going to be really desperate for some spoken practice.
Well, it doesn't have to be so doom and gloom! 😉
With a little bit of effort and imagination you can find plenty of opportunities to practice your spoken English, so without further ado please start familiarizing yourself with 5 ways to practice your spoken English that are especially relevant to those non-native English speakers who don't work in an English speaking environment ❗
Speaking English With Yourself
No, I'm not crazy.
As a matter of fact, I'm not even a little bit mad because there's thousands of foreign English speakers out there who speak in English with themselves as they go about their daily lives, and it's a great way of getting into the habit of thinking in English which is pretty much the only way forward if you're serious about your English development.
Speaking English with yourself is one of the best ways to exercise your English fluency for a very simple reason – the stress factor is COMPLETELY REMOVED, and that's exactly how I've been able to keep my fluency sharp at all times.
Do you think speaking with yourself just won't cut it because it's totally different from speaking with other people? Well – just read this article and you may just change your mind!
Recording Your Speech on a Camcorder
If you don't like the concept of simply voicing your thoughts out loud in English, you may engage in a somewhat similar YET a whole lot more focused activity – recording your speech on a specific subject on a camcorder and then viewing it to see how you performed.
It's got its advantages over a simple self-practice because your speech is going to be more focused due to the presence of the camcorder, and also you'll get to playback the recording and spot your mistakes for later correction.
And by the way – it's not such a bad idea at all to upload such videos on YouTube and get comments from other foreigners and native English speakers! I know plenty of YouTube channels run by foreign English speakers and it's great to see how their speech has come along over the years. There's no reason why you couldn't do the same thing!
Finding Skype Conversation Partners
There are plenty of folks constantly looking for chat partners to practice their spoken English online, so if you don't have many opportunities to brush up your English with English speaking people in real life – you should definitely consider finding a Skype chat partner for yourself!
How to do it?
Simple enough – just type "practice English via Skype", "find chat partners to practice English via Skype" or something similar into the Google search bar and start looking for people who want to do the same thing as you do!
I was able to find a few individuals within a matter of minutes who provide their Skype usernames on various websites, and needless to say you don't need to limit your reach just by Google alone!
There's YouTube, there's Google +, there's Facebook – so just spend some time there and you're bound to find someone who's willing to spend a few minutes chatting with you in English!
Who says you can ring your power supplier, the Internet provider or your waste removal company only when there's a genuine need or emergency?
You can ring them any day of the week to inquire about their services, ask questions in relation to the different payment options they offer – let alone inquiring about specific technical details such as the broadband speed depending on the monthly payment and so on and so forth.
Worried about your phone bill?
Don't fret it! A lot of these companies have low-cost or free phone lines – especially their sales departments who deal with new customer acquisition – so you can ring them every day of the week asking about their services and speaking in English to your heart's content!
Speaking English With Your Friends or Family Members
This is a brilliant way of getting some spoken English practice – especially if you've got likeminded people (as eager to improve their English as you are) among your circle of friends and family members.
I, for instance, live in an English speaking country and my children attend an English speaking school, so speaking in English with my kids isn't really a problem for me. I know some other Latvian parents who should most definitely avail of the same, however, they just don't do it – while at the same time complaining they haven't got any opportunities to speak because of their job specifics or they're staying at home all day long.
As the old adage goes – where there's a will, there's a way – so there's no reason in the world as to why you couldn't practice some spoken English on a regular basis with your native speaking counterparts.
And please don't get me started by saying if two non-native speakers speak, there's no-one to correct their mistakes. You're more intelligent than you give yourself credit for, and please also read this article to find out what I think on the matter.
* * *
Now, I strongly believe that even if you live in a foreign country, you can still find some time to chat with people via Skype and do some self-practice by recording your English speech on a camcorder. Sure enough, you can find any excuse you want, but it's all that is – just an excuse!
Not to mention if you live in an English speaking country – there shouldn't be any issues for you to find enough ways of speaking with others in English. All you have to do is embrace EVERY OPPORTUNITY to speak with people:
… on top of the 5 ways of practicing your English mentioned in the article above! 😉
Hope this will help you improve your fluency,
Regards,
Robby
P.S. Would you like to find out why I'm highlighting some of the text in red? Read this article and you'll learn why it's so important to learn idiomatic expressions and how it will help you to improve your spoken English!
P.S.S. Are you serious about your spoken English improvement? Check out my English Harmony System HERE!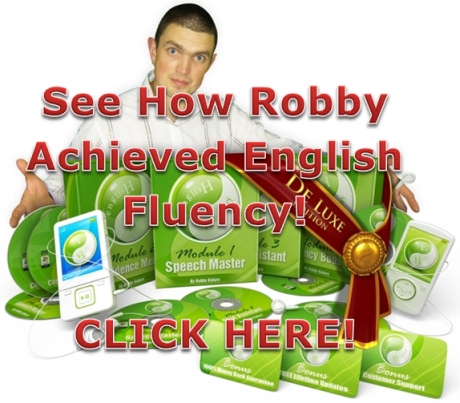 P.S. Are you serious about your spoken English improvement? Check out the English Harmony System HERE!